Cargill invests $50 million to expand poultry processing operations in Thailand
Expansion will create 1,400 new jobs
BANGKOK – Nov. 24, 2016 - Cargill is investing $50 million to expand its poultry processing operations at its facility located in the Nakhon Ratchasima province in Thailand. The expansion will create 1,400 new jobs and add to the more than 13,500 employees that the company currently employs across 14 locations in the country. Cargill will engage several independent smallholder broiler farms in the local community to meet the increase demand in broiler chicken.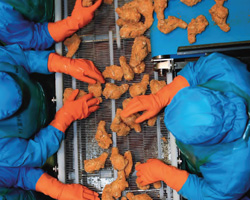 Cargill employees conducting quality checks.The expansion is due to an increase in customer demand and strong customer confidence in the high quality and safety standards of the chicken products produced by Cargill in Thailand. A new building annexed to the current facility began construction on October 21, 2016 and is expected to start operating in the first quarter of 2018.
"Cargill has been in the Thai poultry industry for 25 years and has grown to become the leading exporter of fully-cooked chicken products in the country. I attribute this to our uncompromising approach to food innovation, quality and safety, a talented and efficient local workforce working in a strictly safe environment, and a close partnership with the Thai authorities. This expansion is thanks to the confidence and trust our customers place in our products, our people and our commitment to deliver," said Hans Kabat, President of Cargill Protein Southeast Asia.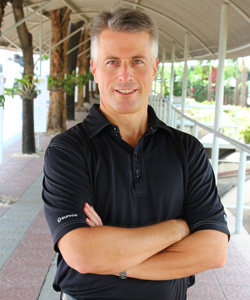 Hans Kabat, President of Cargill Protein Southeast Asia.Cargill Protein Southeast Asia has been steadily growing in this region thanks to growing customer demand and consumer appetite for poultry products in Asia Pacific. In May, it formed a joint venture with Jollibee Foods Corporation, the largest Asian food service company, to establish a poultry processing facility in the Philippines, creating 1,000 jobs in the process. More recently in September, it started a joint venture with leading agri-food business Japfa to produce and supply fully-cooked poultry products in Indonesia.
"These investments strengthen Cargill's position as a leader in food and agriculture industries in Asia Pacific, and reinforce our unique abilities to meet the changing food demands in the region. It also reflects the tremendous growth opportunities for Cargill in Asia Pacific and our commitment to continue to invest in the region and its people," added Kabat.
Johahn Bhurrut, +65 9101 0955, [email protected]
---
About Cargill
Cargill's 155,000 employees across 70 countries work relentlessly to achieve our purpose of nourishing the world in a safe, responsible and sustainable way. Every day, we connect farmers with markets, customers with ingredients, and people and animals with the food they need to thrive. We combine 155 years of experience with new technologies and insights to serve as a trusted partner for food, agriculture, financial and industrial customers in more than 125 countries. Side-by-side, we are building a stronger, sustainable future for agriculture. For more information, visit Cargill.com and our News Center.