Cargill invests in new premix facility in the Philippines to expand animal nutrition capabilities
MANILA – Oct. 25, 2016 - Cargill is opening a new facility that will manufacture premix feed solutions to expand its animal nutrition capabilities and meet increasing demand from domestic customers. Located at the First Bulacan Industrial Park in Malolos, Bulacan, the facility will employ close to 50 people from the local community. This will be Cargill's fifth animal nutrition facility in the Philippines and its first dedicated to manufacturing Provimi premix solutions. The facility will serve primarily medium to large livestock farms and feed millers.
"The livestock farming industry is evolving as farms consolidate, become larger and require more sophisticated nutritional solutions. The new facility will significantly increase the number of innovative offerings that will improve the cost and performance of raising livestock or producing quality complete feeds. It will also provide a broader portfolio of premix solutions to help farmers who need greater flexibility in their animal nutrition requirements or those who are considering the transition from utilizing compound feeds to developing their own feed formulations," said Noel Kim, Director, Cargill Premix and Nutrition, Philippines.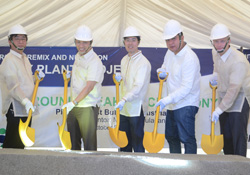 Cargill breaks ground on new facility to expand its animal nutrition capabilities to support the livestock farming industry in the Philippines. The facility enhances Cargill's capability to provide customized nutrition solutions and is designed to deliver 20,000 metric tons of premix solutions per year. Construction started on 25 October 2016 and operations are expected to start in the third quarter of 2017. The facility will be built with the highest and strictest standards in both employee safety, which Cargill prioritizes in its operations, as well as product quality and consistency.
At a ground breaking event on 25 October 2016, Mayor of Malolos Christian Natividad, who was in attendance, welcomed the addition of the facility and stated: "We are happy to be the beneficiary of this investment and we look forward to a very good partnership with Cargill."
The Philippines is a key growth market for Cargill's animal nutrition business in Asia, as it seeks to become one of the regional leaders in providing world class applied nutrition solutions to its customers. In addition to this new facility, Cargill is also investing in a new poultry processing facility in Batangas via a joint venture with Jollibee. That facility will employ 1,000 employees and will be the largest of its kind in the Philippines. The opening of both facilities reinforces Cargill's commitment to growing in Asia and strengthens its position as the global leader in nourishing the world in a safe, responsible and sustainable way.
Johahn Bhurrut, +65 9755 1357, [email protected]
---
About Cargill
Cargill's 155,000 employees across 70 countries work relentlessly to achieve our purpose of nourishing the world in a safe, responsible and sustainable way. Every day, we connect farmers with markets, customers with ingredients, and people and animals with the food they need to thrive. We combine 155 years of experience with new technologies and insights to serve as a trusted partner for food, agriculture, financial and industrial customers in more than 125 countries. Side-by-side, we are building a stronger, sustainable future for agriculture. For more information, visit Cargill.com and our News Center.
About Cargill Animal Nutrition
Cargill's animal nutrition business has more than 20,000 employees at more than 275 facilities in 40 countries. Fueled by our innovation and research, we offer a range of products and services to feed manufacturers, animal producers, and feed retailers around the world, helping put food on the plates of nearly one billion people around the world every day. Cargill's animal nutrition business offers a range of compound feed, premixes, feed additives, supply chain and risk management solutions, software tools and animal nutrition expertise that is unmatched in the industry. For more information about Cargill Animal Nutrition, visit: http://www.cargill.com/feed.