New venture selects Cargill's Tennessee site to produce Calysta FeedKind Protein
Site will house one of the largest gas fermentation facilities to produce sustainable fish feed ingredient

Minneapolis and Menlo Park, Calif. – Nov. 29, 2016 – Cargill, Incorporated and Calysta, Inc., along with several third-party institutions, plan to invest in the creation of the world's largest gas fermentation facility in Memphis, Tenn. to produce Calysta's FeedKind® protein, a family of sustainable, traceable nutritional ingredients for fish, livestock and pets.
The new venture plans to build and operate this facility on Cargill's 69-acre property on President's Island, where Cargill currently produces corn oil and stores and distributes sweetener products. The facility is expected to come online in late 2018, producing up to 20,000 metric tons per year of FeedKind® protein initially and expanding up to 200,000 metric tons per year when operating at full capacity.
Upon completion of the plant, the new venture expects to hire 75 permanent employees and expand to 160 people when the plant is at full ramp-up.
"Cargill has been a part of the Memphis community for 40 years. With the strong support of the state of Tennessee, Shelby County and City of Memphis, we are pleased that the venture chose to locate the facility in Memphis," said Cargill's Global Vice President of Bioindustrial, Brian Silvey. "The venture's building of a state-of-the-art fermentation facility on the existing Cargill Memphis site reaffirms our commitment to the community and state and our pledge to strategically invest in aquaculture as an ever increasingly important source of protein."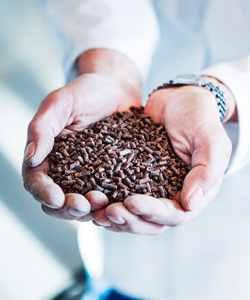 The Memphis Tenn. facility, the world's largest gas fermentation facility, will produce Calysta's FeedKind® protein, a family of sustainable, traceable nutritional ingredients for fish, livestock and petsFeedKind® protein is a proprietary, competitively priced, new feed ingredient initially targeted as an alternative to fishmeal for the aquaculture industry. It is produced using the world's only commercially validated gas fermentation process. Cargill and Calysta jointly will be marketing FeedKind® protein globally.
"With a proven and proprietary fermentation platform, Calysta is introducing a scalable and disruptive protein source critical to meeting the needs of a growing global population. Partnering with Cargill, a leader in fermentation and protein production, and others to invest in the establishment of the venture as the first U.S. manufacturing plant to commercially produce FeedKind® protein, significantly accelerates FeedKind® protein's launch in the aquaculture industry at commercial scale. This venture is an important first step to deploying this technology globally," said Calysta President and Chief Executive Officer, Alan Shaw, Ph.D.
In September 2016, Calysta opened an R&D and market introduction facility in the United Kingdom to produce samples of FeedKind® protein that can be used in aquaculture, livestock and pet markets worldwide.
Cargill employs approximately 274 employees in its corn, cotton, metals, grain, and farmer service businesses across its 14 locations in Tennessee.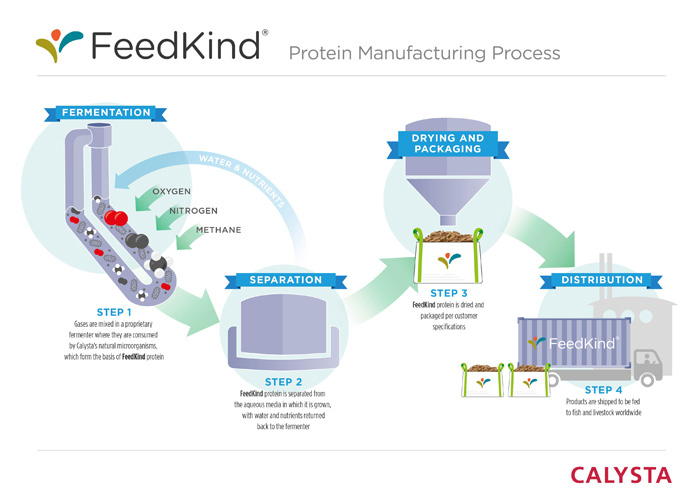 Cargill: Kelly Sheehan, [email protected], 952.742.4204
Calysta: Lyn Christenson, [email protected], 650.492.6880, ext 200, or
Calysta Media Information, [email protected];
Steven Flanagan, [email protected], +44 (0)7557 210989
---
About Cargill
Cargill's 155,000 employees across 70 countries work relentlessly to achieve our purpose of nourishing the world in a safe, responsible and sustainable way. Every day, we connect farmers with markets, customers with ingredients, and people and animals with the food they need to thrive. We combine 155 years of experience with new technologies and insights to serve as a trusted partner for food, agriculture, financial and industrial customers in more than 125 countries. Side-by-side, we are building a stronger, sustainable future for agriculture. For more information, visit Cargill.com and our News Center.
About Calysta
Calysta, Menlo Park, Calif., is an innovator in sustainable products to improve worldwide food security. Calysta develops and commercializes FeedKind® protein, a sustainable, traceable alternative feed ingredient for fish, livestock and pet nutritional products