Cargill expands partnership with FareShare
Cargill sets up supply chain for FareShare to distribute fresh chicken

(Hereford, U.K.) - 6 July, 2017 - Global agriculture, food and nutrition company Cargill launched a new agreement to supply FareShare, a U.K.-based organization fighting hunger by tackling food waste, with fresh chicken every week free of charge. The agreement will help FareShare grow its capacity to redistribute even more food to communities in need in the South West of England.
As a part of its commitment to sustainable nutrition, Cargill has partnered with FareShare since 2009 with providing over £600,000 in funding to help the charity address food waste and turn an environmental problem into a social solution. An estimated 8.4 million people in the U.K. – the equivalent of the entire population of London – are struggling to eat.* At the same time, at least 270,000 tonnes of surplus food from the U.K. food and drink industry could be redistributed to feed people each year – enough for 650 million meals.**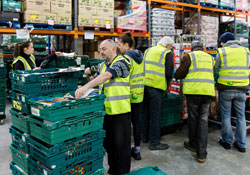 Volunteers working in the FareShare distribution center in Bristol "By setting up a fresh chicken supply chain, Cargill is helping FareShare provide communities with access to a steady supply of safe, nutritious and affordable food," said Chris Hall, General Manager for the Fresh Chicken Business at Cargill. "Cargill is delighted to expand its support to FareShare by helping to set up this critical supply chain."
"Fresh meat is the most in-demand food category for FareShare and demand always outstrips supply," said Charlie Mason, Operations Manager at FareShare South West. "The new Cargill chicken supply chain will supply our charity customers with a regular source of high-end protein with which to supply their service users."
Cargill began supplying in mid-June into the FareShare Regional Centre in Bristol.
* Food and Agriculture Organization of the United Nations, Voices of the Hungry, 2016
** WRAP, Quantification of food surplus, waste and related materials in the grocery supply chain, 2016
Yana Childs, [email protected] , 07920 467423
---
About Cargill
Cargill's 155,000 employees across 70 countries work relentlessly to achieve our purpose of nourishing the world in a safe, responsible and sustainable way. Every day, we connect farmers with markets, customers with ingredients, and people and animals with the food they need to thrive. We combine 155 years of experience with new technologies and insights to serve as a trusted partner for food, agriculture, financial and industrial customers in more than 125 countries. Side-by-side, we are building a stronger, sustainable future for agriculture.
About Cargill Meats Europe
Cargill's European Poultry business is the leading supplier and innovator of primary and further processed chicken products based in Hereford. We employ 2800 people in 10 locations – plus farms – in England, France, the Netherlands and Russia.
About FareShare
FareShare saves good food destined for waste and sends it to charities and community groups who transform it into nutritious meals for vulnerable people. The food we redistribute is fresh, quality and in date surplus from the food industry and the charities we work with can be found across the U.K. Learn more online.