Cargill and Heifer International expand Hatching Hope to Mexico, helping women farmers go from poverty to prosperity via poultry
The Hatching Hope Global Initiative will connect Mexican women smallholder farmers with private sector buyers to improve nutrition and livelihoods
(CHIAPAS, MEXICO) Aug. 20, 2019 —Cargill and Heifer International are 'hatching hope' in Mexico, as the co-creators of the Hatching Hope Global Initiative announce their expansion into three southeastern states. This expansion advances Hatching Hope's bold vision: to improve the nutrition and livelihoods of 100 million people by 2030 through the production, promotion and consumption of poultry.
"Hatching Hope will create thriving centers of agriculture," said Victor García, Mexico Country Director for Heifer International. "With Cargill's partnership, Hatching Hope Mexico will connect farmers to market buyers and create increased demand for their products through local media and education."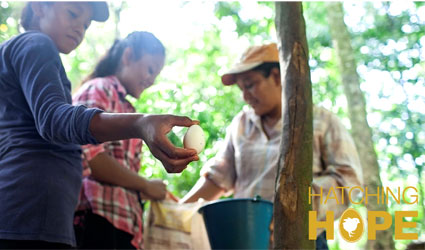 Mexico is the second country to launch a Hatching Hope project, following India's launch in November of 2018. Work will begin in Puebla, Oaxaca and Chiapas and will center around the growing demand for cage-free eggs. Hatching Hope will connect more than 1,000 women smallholder farmers with independent buyers. Using the Cargill feed distribution network, it will also train farmers on productive, efficient and sustainable farming practices so they can be part of the solution to improving nutrition and raising the economic productivity of the region.
"The key to Hatching Hope is working alongside entrepreneurial women farmers who are passionate about having a positive impact on their families, communities and businesses," said Rene Osorio, managing director for Cargill's feed and nutrition business in Mexico.
Cargill customers are also stepping forward to help. Distribuidora El Tio, a long-time Cargill customer and Mexican feed distributor, is providing poultry feed at a competitive price, animal nutrition support and training on topics like poultry production, biosecurity, nutrition and technical support.
"We look forward to contributing to Hatching Hope by supporting these farmers and making a meaningful impact on the communities in which we live and operate," said Rene Vargas, general manager at Distribuidora El Tio.
Cargill and Heifer share a belief in the value of safe, sustainable and affordable animal protein in the diet—as well as a commitment to improving the livelihoods of smallholder farmers. By bringing their expertise, relationships and on-the-ground presence together to empower smart, resourceful women entrepreneurs, they hope to create sustainable economic systems.
Learn more about the Hatching Hope Global Initiative and how to get involved at hatchinghopeglobal.com.
Media Contact: [email protected]
---
About Cargill
Cargill's 155,000 employees across 70 countries work relentlessly to achieve our purpose of nourishing the world in a safe, responsible and sustainable way. Every day, we connect farmers with markets, customers with ingredients, and people and animals with the food they need to thrive. We combine 156 years of experience with new technologies and insights to serve as a trusted partner for food, agriculture, financial and industrial customers in more than 125 countries. Side-by-side, we are building a stronger, sustainable future for agriculture. For more information, visit Cargill.com and our News Center.
About Heifer International
Heifer International's mission is to end hunger and poverty while caring for the Earth. For 75 years, Heifer International has provided livestock and sustainable agricultural training to improve the lives of farmers and rural communities. Heifer currently works in 20 countries, including the United States, supporting communities to become self-reliant and farming families to reach living incomes. For information, visit Heifer.org, read our blog, follow us on Facebook, on Twitter @Heifer and @HeiferCEO or call 888.5HUNGER (888.548.6437).