Cargill opens first food innovation center in Singapore to address nutrition and food safety needs
(Singapore) June 20, 2019 – Cargill has opened its first innovation center in Singapore to help customers anticipate market forces and shifting consumer values around tastes, nutrition and food safety. It also connects the company's customers in the Asia Pacific region to a global network of 10 other innovation centers and 2,000 food scientists. The innovation center in Singapore will employ 20 food scientists by the end of 2019.
Cargill's global presence enables the company to stay at the forefront of emerging customer needs and solutions and bring important new knowledge to consumers.
The company already has two innovation centers in the region—in Beijing and Shanghai. It chose Singapore for its third center thanks to its strategic location and the government's strong focus on building the country as a global innovation hub.
"Consumers in Asia Pacific want healthy and nutritious food and drinks but do not want to compromise on taste, quality and affordability," said Peter Van Deursen, president of Cargill's global starches, sweeteners & texturizers business. "Our new innovation center in Singapore will allow us to collaborate more closely with our customers in this region to create and reformulate products that better suit these changing consumer trends."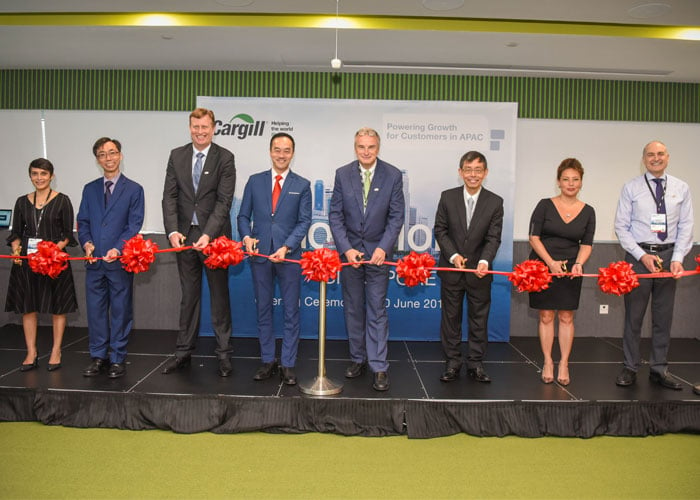 At the ribbon cutting ceremony of Cargill's first food innovation center in Singapore (left to right) Ms. Rani Misra, Cargill Asia Pacific's regional treasurer; Mr. Eng Keat Lee, executive director, Economic Development Board; Mr. Peter Van Deursen, president of Cargill's global starches, sweeteners & texturizers business; Dr. Koh Poh Koon, Senior Minister of State for Trade and Industry; Mr. Marcel Smits, chairman of Asia Pacific and head of corporate strategy, Cargill; Mr. Peter Ong, chairman, Enterprise Singapore; Ms. Stephanie Syptak-Ramnath, charge d'Affaires, U.S. Embassy of Singapore; and Dr. Kerr Dow, vice president, global research and development for Cargill Food Ingredients and Systems. Dr Koh Poh Koon, Senior Minister of State for Trade and Industry said, "In order to stay ahead, businesses will have to develop products that are tailored to the evolving needs and preferences of Asian consumers. Singapore, with its extensive regional connectivity, strong research base and clustering of innovation activities, is well positioned for companies such as Cargill to harness the growth opportunities in Asia."
At an event on June 20, 2019, Senior Minister of State Dr. Koh and senior representatives from Enterprise Singapore, the Economic Development Board, Singapore Food Agency and the U.S. Embassy, joined Cargill employees, partners and customers for the official opening of the center. Events included an experiential tour and sampling of the innovative products that included healthier chili sauces with natural sweetness, yoghurt drinks with fruit and vegetable extracts, and bite sized wafers with low trans-fatty acids chocolate coating.
Cargill's global network of innovation centers provides R&D, applications and technical service support to customers around the world. These centers are closely linked with numerous regional applications and technical service centers, which places the company in close contact with evolving trends in local markets, allowing customers to tailor products to local market tastes.
Melissa Bheem, [email protected]
---
About Cargill
Cargill's 155,000 employees across 70 countries work relentlessly to achieve our purpose of nourishing the world in a safe, responsible and sustainable way. Every day, we connect farmers with markets, customers with ingredients, and people and animals with the food they need to thrive. We combine 155 years of experience with new technologies and insights to serve as a trusted partner for food, agriculture, financial and industrial customers in more than 125 countries. Side-by-side, we are building a stronger, sustainable future for agriculture. For more information, visit Cargill.com and our News Center.