Cargill Launches New Plant-Based Protein Brand PlantEver™ for Consumers in China
Plant-based, chicken-alternative nuggets and beef-alternative patties included in first launch, with more options to follow
Shanghai (June 30, 2020) – Following a successful consumer test of plant-based nuggets with KFC in April, Cargill is debuting PlantEver™, a plant-based protein consumer brand in China. These products will help meet demand for nutritious, great-tasting alternative protein options.
PlantEver™ is offering two plant-based products, a chicken-alternative nugget and beef-alternative patty. These products provide Chinese consumers the nutrition value of veggie products combined with the joy that comes from eating great-tasting meat. The nugget is on the market now and the plant-based patty will launch in early July. These products are first available on Cargill's Sun Valley Tmall flagship store, with other online and offline channels to follow.
The PlantEver™ plant-based nugget Cargill will also be introducing two additional co-branded products with Lawson, a Japan-based convenience store chain. Beginning in July, this joint effort includes a plant-based scallop alternative and chicken-alternative tender.
"Cargill is taking an inclusive approach to the future of protein by investing in both animal and alternative protein. We will continue to offer safe, responsible and sustainable proteins to customers and consumers by flexing our supply chain advantage and global research and development expertise," said Managing Director of Cargill Protein China Jackson Chan.
These plant-based protein products are produced locally in Cargill's facilities in Chuzhou, Anhui Province in China. The launch of PlantEver™ represent an important step for Cargill in bringing even more diverse, high-quality protein options to Chinese consumers.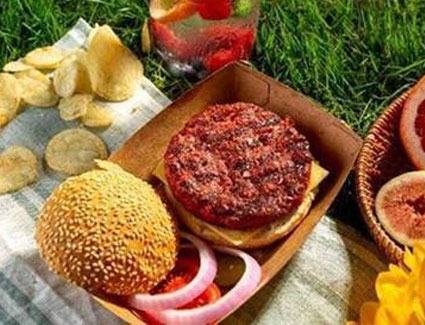 The PlantEver™ plant-based patty Cargill has invested more than $7 billion globally in its animal protein supply chains in the past five years to help customers thrive and meet consumers' demand. In addition, Cargill has invested in other alternative protein products in Asia and North America.
Media Contact: [email protected]
---
About Cargill
Cargill's 155,000 employees across 70 countries work relentlessly to achieve our purpose of nourishing the world in a safe, responsible and sustainable way. Every day, we connect farmers with markets, customers with ingredients, and people and animals with the food they need to thrive. We combine 156 years of experience with new technologies and insights to serve as a trusted partner for food, agriculture, financial and industrial customers in more than 125 countries. Side-by-side, we are building a stronger, sustainable future for agriculture. For more information, visit Cargill.com and our News Center.