EuroTier 2018
Join us at EuroTier to see, feel and hear the latest in feed and farm management.
Cargill Animal Nutrition
Hanover, November 13-16, 2018
Hall 19/20, Stand C44
Get the inside story on the future of animal nutrition.
A sneak preview: innovations in animal nutrition revealed! Our teams work every day to research, innovate, and bring you solutions that will give you a competitive edge. And they're eager to tell you about them.
That's why at this year's EuroTier edition we will bring to you the latest of our innovations in nutrition and farm management. Meet our experts to hear personally about the latest discoveries. Join special insights ruminant workshops on stand. See, feel and experience new swine and poultry products. Learn how Digital Nutrition can positively impact feed and farm management.
And at the end of the day, join us for Beer & Bites. We look forward to seeing you.
The Cargill difference. Better nutrition for better lives.
Cups of Coffee
During the 4 days of EuroTier we expect to serve more than 3000 cups of coffee to our visitors.
Major Innovations
You can expect 6 major Cargill innovations at EuroTier, in the areas of Digital Nutrition, Poultry, Swine and Ruminant nutrition and farm management.
Win a pallet of feed
You could win a pallet of feed as a prize during our daily Beer & Bites event and raffle.
The technology. The Talk. The innovations.
Carefully selected products for you to see on our stand. Join us and experience how the latest insights can work on farm. And learn about powerful feeding concepts that can help improve profitability and ROI.
Meet our experts
New technology & insights
Explore our broad product range
Key products for all swine life stages
Swine at its best: feel, taste and see our swine products in action on stand.
NEW Convermax®
Unique blend of botanical extracts and high-quality mineral sources. Improves feed conversion ratio by calming the fattening pig herd.
Click here to download more information

NEW Livapig™
Take advantage of our newest sow solution to boost livability and experience more piglets and higher profits.
Click here to download more information

Neopigg® RescueCare
For the early days. The complete liquid feeding concept to optimize intake and growth performance.

Neopigg® Shield
Cargill developed Shield, the most secure and consistent nutritional portfolio meant to minimize your piglet's post weaning performance dips.
Where to find us

EuroTier 2018
Messegelände, 30521 Hannover, Germany
Tuesday, 13 November – Friday, 16 November, 2018
Opening time: 09:00 – 18:00 hours
Location: Hall 19/20. stand C44.
Press contact: Nancy Emmens, [email protected], +31(0)643104790.
Join us for Beer
& Bites
From 16.00. to 18.30 on Tuesday 13, Wednesday 14 and Thursday 15 November.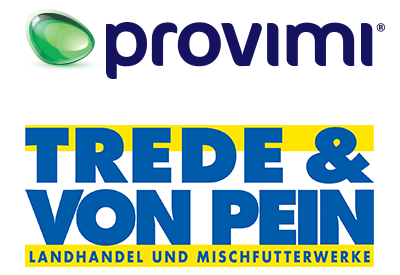 The Provimi® portfolio taps into Cargill's global network for innovative research, technical knowledge and software expertise to create practical feed solutions for all species. Over nearly 90 years, our Provimi brand has built a reputation for its diverse products and services, including premixes, additives and specialties such as piglet feeds and milk replacers. Customized options to meet the needs of any operation. Additionally, our partner Trede & von Pein will be present on stand.