Fescue EMT® Mineral Defense
There's a threat growing in your pasture.
Defend cattle from the nutritional and performance challenges of endophyte-infected fescue.
Contact our beef cattle nutrition team for more information
Millions of acres of endophyte-infected tall fescue occupy hay and pastureland across the United States. Some cattle producers have no choice but to utilize the forage despite the consequences on their cattle and bottom-line.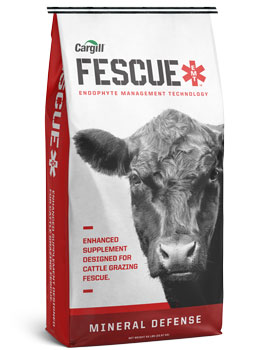 With Fescue EMT, beef cattle producers can get ahead of summer slump and the negative effects of fescue toxicity that come with it. The mineral defense features proprietary Endophyte Management Technology (EMT) and helps prevent the nutritional and performance challenges of cattle grazing fescue.
Beat the summer slump of fescue toxicosis
In research, cattle grazing fescue and supplemented with Fescue EMT Mineral Defense gained an additional 0.15 pound per day compared to control groups. The average daily gain of cattle on Fescue EMT was 30 percent higher than controls.
| | Mineral-only Control(a) | Fescue EMT®(b) | Difference |
| --- | --- | --- | --- |
| Average Daily Gain (ADG) (lbs.) | 0.4748 | 0.6241 | +0.1493 |
Treatments with different superscripts differ by p<0.05
Cow/calf producer field trials in Kansas and Missouri also yielded positive results:
"The cattle on Fescue EMT were in better body condition and had better hair coats. We usually have to grain these cattle and really push them to put weight on. Not this year. We went into winter with better breed backs and in better shape overall."
– Donnie & Ronnie Oplotnik, Oplotnik Bros. Farms, Girard, Kansas
"We had some really hot fescue this year, but I was satisfied with what the mineral did. Cattle were uniform and hair coat looked good. Of almost 200 cows, we only had 4 to 6 open, which is about a 98 percent conception rate. Our neighbors and folks around us really struggled this year with poor conception rates."
– Byron Grainger, Grainger Cattle, Center View, Missouri

A mineral to help defend against fescue toxicity
Fescue EMT supports healthy growth and overall performance of beef cattle in the presence of endophyte-infected fescue. The high quality, palatable nutrient source is verified by independent research and backed by the experience and expertise of Cargill Animal Nutrition.
It is estimated that 85 to 95 percent of fescue is infected with an endophyte that can lead cattle to experience symptoms of fescue toxicosis or "summer slump." When cattle are heat stressed – an outcome of fescue toxicosis – they spend less time grazing and more time seeking relief from the heat. This grazing behavior can reduce growth rates and/or lead to weight loss. Other consequences include lower conception rates, decreased milk production, reduced weaning rates, decreased female retention, and significantly reduced stocker gains. Fescue toxicosis costs the U.S. beef industry around $600 million annually due to decreased growth rates and performance.
"I wouldn't recommend something I wouldn't use myself; I have seen the difference of Fescue EMT on my herd and plan to use it again with most of my cows." – Jack Ferguson, Ferguson Farms (York, South Carolina)