Optislip™
Easier processing and handling of polymers
Recognized for its wide range of friction control benefits, bio-based* content and variety of physical forms, Optislip™ offers high-performance slip and anti-blocking additives for polymers. Suitable for use in a variety of polymer types and film structures, this range of products can reduce friction during manufacturing, conversion and end-use, helping to produce high quality films for simplified processing and handling.
Produced for over 50 years, we are world leaders in surface science and application of additives into plastics. Our global research and development teams have a long history of collaborating with customers to develop and optimize, bio-based solutions, processing conditions and innovations. Furthermore, our testing capabilities on behalf of customers in our state-of-the-art laboratories to help relieve the burden of approval and make NPD more efficient.
Contact us Download Optislip brochure
Explore our range of products
High slip
Medium slip
Low slip & anti-block
How do Optislip additives work?
Cargill's specialty slip additives can be added directly to the polymer at the processing stage, pre-compounded or included via masterbatch. Optislip works by migrating to the surface as the polymer cools forming a solid lubricating layer at the surface. This acts to reduce the friction or adhesion between contacting polymer surfaces, and the polymer and other materials.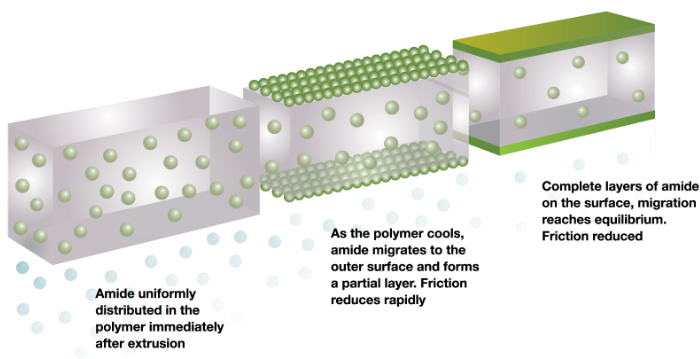 NEWS:
Polymer additives capacity expansion
Cargill's Discover how Cargill's polymer additives capacity expansion project at its major amide manufacturing site in the U.K. is now performing routine operations.
CASE STUDY:
Medium slip solution multilayer packaging film with Optislip
Discover how Cargill's Optislip helped our customer achieve medium slip in multi-layer packaging films.
FEATURED:
Discover a better slip solution with Cargill's expertise
With Cargill's wide range of slip additives and our unmatched expertise, we'll work together to find the right additive and dosage level for your application and needs.