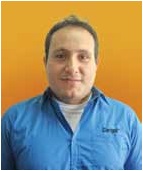 Name: Jairo R.
Title: Tecnico De Laboratorio de Microbiologia
Career Area: Production & Maintenance, Quality Assurance & Food Safety
Location: Guatemala
Education: HACCP diplomas (Analysis of Critical Control Risks) and BPM (Good Production Practices), Bachelor's Degree in Business Management at University

I started to work for Cargill in 2007 at the age of 18. This was only the second job I ever had. I first worked for Cargill as a quality monitor on the night shift for two years. Then, in 2009, I was given the opportunity to work as a microbiology lab technician. At the same time, I started studying different microbiology courses, and undertook training in HACCP (Analysis of Critical Control Risks) and best production practices. I started a Bachelor's degree in business management at the university, where I am currently finishing my fourth year. I also provided support to the research and development department for new product testing and reformulations. In 2012, I started as a quality supervisor.