The U.S. and China: Linked by Trade
China is a critically important export market for U.S. farmers, who in turn help feed the growing Chinese population.
April 03, 2018
The town of Holdrege, Nebraska, was settled by pioneers in 1883, about 160 miles west of Lincoln. When those original residents planted their first crops, they likely could never have imagined that their descendants would someday be feeding people on the other side of the world.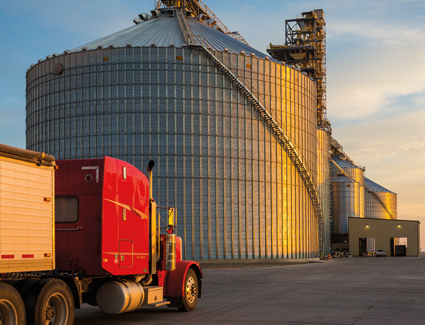 But that's exactly what happens today. It's from Holdrege – and countless similar farming towns in the American bread basket – that soybeans and other agricultural goods begin a journey of 7,000 miles or more to help feed Asia's growing middle class. Soybean meal, for instance, is a key component of animal feed, and animal protein consumption has increased rapidly in Asia as incomes rise.
"Opening up a different market to consume what we grow here is a very good thing, not only for me, but for all the farmers in the area," said Shane Westcott, who owns and operates a 2,000-acre farm near Holdrege.
It's a common sentiment. About three hours' drive from Holdrege near Salina, Kansas, Bill Came and his family farm the same land that their ancestors settled in 1895, growing wheat, milo, corn and soybeans. They also run a cow-calf operation. Much of Came's crop goes to export, and he closely watches what's going on elsewhere in the world.
"We are always looking at how much China is buying," Came said.
Trade supplies both food and jobs
Perhaps no destination in Asia is more important than China, and this means that trade relations between China and the U.S. matter.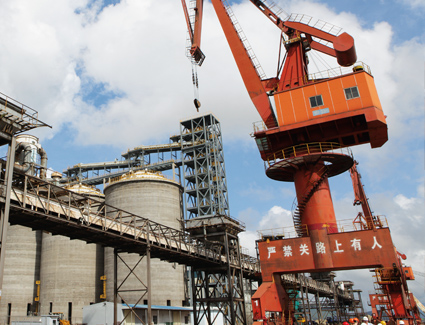 The two nations aren't just the world's largest economies, they also are increasingly linked by food and agriculture. China is the second-largest destination for U.S. agricultural exports, with U.S. farmers sending $19.6 billion of agricultural goods to China last year. This represents a 136 percent increase over the past decade.
These exports drive jobs and economic growth all along the supply chain – for farmers, processors, shippers and more.
The crops also are increasingly important to China's food security. The country grows 12-14 million metric tons of soybeans each year, but most of those are for human consumption. It doesn't leave much to feed the nation's livestock. So as meat and poultry consumption has grown, China's imports of soybeans have grown very quickly – from 75 million metric tons five years ago to 100 million today. The U.S. has supplied about a third of those soybeans over the past few years.
In other words, any trade conflict between the two countries could leave both worse off.
"There are no winners in a trade war," said GJ van den Akker, who leads Cargill's Agricultural Supply Chain enterprise. "Responsible trade policy allows food to be grown, produced, and moved sustainably and cost-effectively from where it's best produced to where it's needed."
By land and by sea
From Cargill's recently modernized grain elevator at Holdrege, soybeans travel by rail to export facilities in the Pacific Northwest.
Once they arrive, the beans are prepared for export by TEMCO, a 50-50 joint venture between Cargill and CHS, a farmer-owned Fortune 100 company. The two companies have made significant investments to expand TEMCO's facilities in recent years.
Expansions have been necessary as the flow of soybeans has grown. During harvest season, two to three trains with 110 cars each pull into TEMCO's Tacoma, Washington, terminal daily. It takes about 600 to 650 rail cars – or about 50,000 acres of soybeans – to fill a Panamax ship bound for China.
After loading, the crew sets sail for one of China's ports, where the soybeans are bound for customers in the food and feed sectors, as well as for processing at Cargill oilseed processing plants in Nantong, Dongguan, Yangjiang or Huanghua. The ocean crossing takes about 18 to 22 days.
Cargill markets the protein-rich soybean meal to animal feed manufacturers and distributors, hog and chicken producers, and other businesses in China. Ultimately, Chinese consumers enjoy a wide variety of nutritious food products thanks to this flow of goods.
"The demand from China for soy for animal feed and meat production is fueling our growth and investment across the agricultural supply chain," said Robert Aspell, president of Cargill China.
By truck, rail and boat, the journey of soybeans from a farm in the interior of the U.S. to a crush plant in China takes about two months. International trade supports livelihoods at every step of the supply chain, a fact that U.S. farmers understand well.
"I think everybody wants to be sure they're treated fairly. But trade is extremely important to us," said Came. "Without it, we'd be in big trouble."