Shrimp Farmer in Vietnam Shares His Tips for Success
Mr. Pham Van Chu, a shrimp farmer in Vietnam, believes feed is one of the most decisive factors between success and profit-loss.
Poor feed choices lead to feed waste, negative environmental impacts and diseased shrimp.
Mr. Chu looks for two factors when choosing feed: physical quality of the feed and actual results achieved through on-farm testing process.
Shrimp Farmer in Vietnam Shares His Tips for Success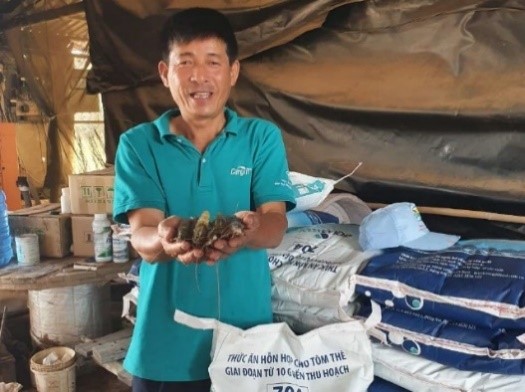 Shrimp farmers faced a challenging 2020, but Mr. Pham Van Chu in Dien Gio area, Bac Lieu city, Vietnam managed to maintain a stable profit through extensive experience in farming and careful testing of his crop.
In the October 2020 harvest, the shrimps he raised reached the size of 19 counts/kg on average. After subtracting all costs, he earned more than 1.19 billion VND (~50,000 USD) on two 1,400m2 ponds, a profitable return in a challenging year.
"In order to reduce costs and improve production efficiency, you have to choose the right feed and prioritize quality," expressed Mr. Chu.
According to Mr. Chu, feed is one of the most decisive factors for success and profitability. If not carefully considered, cheap or low performing feed can cause significant losses. He shares the three places where he sees shrimp farmers losing out on profits because of poor feeding choices.
1.) Wasted food leading to higher total feed cost
Whiteleg shrimp (Vannamei) eat in herds, only consuming food in the upper water layer. The residue and debris sink to the pond bottom. When catching larger feed pellets, they will immediately leave behind the half-eaten pieces.
Therefore, when choosing feed, "farmers should give priority to products that sink slowly, have uniform sizes, are suitable for the mouth of the shrimp and are stable in water," advises Mr. Chu.
When budgeting, Mr. Chu suggests that if feed takes up 70 percent of the total production cost, it is most likely that profit will be close to zero.
2.) Water treatment Cost
Poor quality feed not only increases the total production costs, but also has a negative impact on the environment. Many say, "raising shrimp is nurturing water." Feed that is dusty and dissolves quickly will easily dirty the pond, creating ideal conditions for pathogens to spread. Having to treat water continuously to stabilize the environment for shrimps not only increases labor but also incurs more costs that eat into the crop profit.
3.) Lower selling prices because of smaller size, lower quality shrimps
"The most painful thing for farmers is to try and sell young, sick shrimp," Mr. Chu shared. When shrimps don't reach the harvest size, farmers cannot sell them or are forced to accept low offers, causing heavy losses after busy days.
Based on his practical experience, Mr. Chu said that when choosing feed, farmers need to put quality first instead of considering cheap or non-branded products. Low quality feed leads to less healthy shrimp. Look for feed that puts an emphasis on animal health and welfare.
How to choose the right shrimp feed
Mr. Chu emphasized two factors for feed selection: physical quality of the feed and actual results achieved through on-farm testing process.
First, farmers should choose pellets of uniform size and color, smooth surface with less fine and high water stability. These are that factors that farmers can easily observe with their naked eyes.
Second, farmers should evaluate the performance of the feed through tests. They can monitor daily feed intake and shrimp growth index for accurate assessment.
After years of experimenting with a variety of available feed and brands in the market, Mr. Chu is now using Aquaxcel extruded feed from Cargill - the product he believes to give him the best performance on limited farming areas.
He believes that extruded feed is a breakthrough technology in the market that will help solve the challenges of shrimp farming, especially in intensive and hyper intensive farming models.
With only two ponds of 1,400 m2, Mr. Chu can collect 13.6 tons of shrimp with positive results:
• Average daily gain (ADG) was up to 0.50 g d.
• The feed conversion ratio (FCR) falls to about 1.35.
• Survival rate is 96%.
• Shrimps are shiny, beautiful and uniform in size.
Mr. Pham Van Chu in Vietnam was able to have continuous, successful shrimp harvests, even in tough times, thanks to educated food choice.
[]/[]
A recent study showed that researchers were able to develop models to predict dry feed intake in young calves. We break down what these models mean and how they help.
[]/[]
With the EWOS SalmoNIR technology, salmon farmers now have immediate availability of data to inform their farm management in real time.
[]/[]