Sustainable &
ethical coatings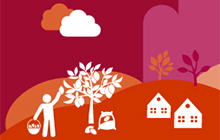 Today's consumer has a strong interest in where their products come from and how they are produced. Give them added assurance with our new range of coatings made from UTZ certified sustainable cocoa powder, along with RSPO certified palm oil and sunflower lecithin coatings.
Joined-up expertise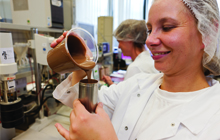 Make use of Cargill's extensive knowledge across the food ingredient sector combined with deep expertise in cocoa and ultra-modern application centers, and find winning solutions to your unique requirements.
Read more
Coatings
Your coatings needs can be fully satisfied through our deep expertise and extensive range of ingredients
Benefit from our offering of over 200 ingredients and state-of-the-art production facilities, giving you endless opportunities to delight your customers. Your product creations can go beyond chocolate, as we also offer hazelnut, caramel, fruit flavored and colored, as well as white coatings.
Variety is key
Combining ingredients to provide you with the perfect product hit, we can vary:
Color - from light to extremely dark
Taste - from sweet to bitter
Fat - depending on the desired fat content
Mouthfeel - from flexible and soft to hard with a good snap
Good stability and shelf life
You will also be able to receive coatings in different forms to suit your specific needs - liquid, drops, wafers, cartons, blocks and buckets.
Delighting consumers with colour and flavour
You can play with taste and color to appeal to consumers with our diverse offering. Chocolate coatings are still a favorite, while hazelnuts, caramel, fruit-flavored and white coatings are all popular.
Health and wellness
The trend towards health and wellness continues to rise, and we can help you create endless opportunities to meet your consumers' needs.
Related links
To learn more about these tasty topics: