Joined-up Expertise
Cargill's expertise across multiple food-related industries matched with our extensive cocoa expertise allows you to develop your latest and greatest innovations
Deep cocoa expertise
We have the capabilities to craft the perfect product for you and to support your unique position in the marketplace. Strong on-the-ground relationships and crop teams monitor cocoa growing conditions almost daily. Meanwhile, our in-house Maître Chocolatier can help you create the perfect sensorial experience, and our research team in scoping out the latest consumer trends.
In addition, we have specialist R&D facilities dedicated to developing new innovations in chocolate, coatings, fillings and powder. It all comes together as we use decades of experience and knowledge to deliver the ultimate product for you.
Broad food ingredients
The depth and breadth of Cargill - in food ingredients in particular - helps you innovate and grow your business.
Our direct experience in other sectors and access to a large ingredient portfolio means that can we find solutions to complicated requests, and deliver innovations for all kinds of chocolate applications. And, as part of Cargill, we have access to Cargill-wide resources – such as food lawyers, who can help you balance regulatory needs with other requirements.
Specialists from across Cargill's Food Ingredient businesses work together at our Food Innovation Center, developing innovations and new product formulations to optimize the ingredient, claim or the final application's properties.
Related links &
Press releases
To learn more about these tasty topics: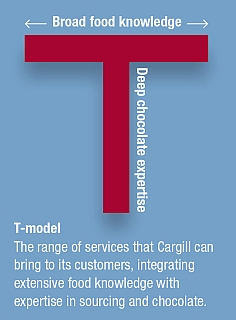 A wealth of knowledge available
Ingredient trends
Category trends
Consumer & Food trends
Macroeconomic trends
Please contact your Sales Manager or use the "contact us" button above to learn more.