Starches, Sweeteners & Texturizers Sustainability Insights Report
Download our Insights Report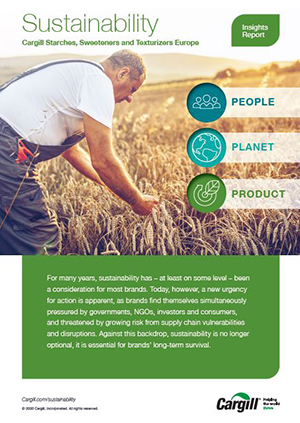 Brands are under mounting pressure to adopt sustainable practices as consumers are increasingly conscious about what they buy, evaluating product purchases against personal standards related to ethics, sustainability and animal welfare.
Like today's consumers, we at Cargill also have a responsible food mindset. We are committed to transparency, with traceability levels available across the vast majority of our raw material supply chains. Wherever practical, we rely on locally produced raw materials and recognize farmers who care for the land and are the key to our success. That's why we are working with more than 5,000 farmers across our global supply chains, providing training in sustainable practices and encouraging continuous improvement, to empower farmers and nourish a growing population.
Fill in your details below for access to our Insights Report
Some Cargill products are only approved for use in certain geographies, end uses, and/or at certain usage levels. It is the customer's responsibility to determine, for a particular geography, that (i) the Cargill product, its use and usage levels, (ii) the customer's product and its use, and (iii) any claims made about the customer's product, all comply with applicable laws and regulations.