Gone are the days when meat alternatives were only marketed to a niche group of consumers. Today, companies are racing to create new products and brands that appeal to a whole new mainstream group of flexible vegetarians ("flexitarians").
European consumers are furthest ahead in the consumption of plant-based beef products, on par with plant-based milks*.
*The smart protein plant-based food sector report, EU, 2021
Creating a meat-like experience through plant-based formulation requires expertise. There are many consumer expectations involved in creating a perfect plant-based meat alternative:
In its raw form, you want to present a burger patty with a pinkish, non-artificial color and a balanced structure, that comes as close as possible to real meat in terms of look
The "real" sensory aspects need to be maintained when the product is being cooked up.
The burgers can't stick to the frying pan during cooking, as this makes them very difficult to flip over.
INFUSE can help you overcome these challenges by employing a multiple ingredient approach, leveraging our broad Cargill building blocks of plant proteins, texturizers, oils & fats, and flavor & color, and through effective formulation fine-tuning. Our specifically designed blends help you deliver high quality plant-based meat alternatives to burgers that consumers can enjoy without any compromise on the eating and cooking experience.
Creating a best in class plant-based burger
By identifying the perfect combination of proteins, texturizers and vegetable oils & fats, our application teams set out to develop a burger concept with a great structure and texture: the Texture Sensation burger. As sensory goes beyond texture alone, our applications teams partnered with an external Taste & Color partner on this project to truly build a better burger.
The building blocks to our concept are:

| | | |
| --- | --- | --- |
| | | The concept is the debut for Cargill's texturized plant protein (TEX PW80 M), next to Trilisse® MVP 1201 - an ingredient blend of pea and wheat proteins, which further helps to ensure the right balance in taste and texture. |
| | | |
| | | Flanogen® REM 2460 is a specifically designed binding and texturizing system which contributes to firmness, chewiness and succulent mouthfeel. |
| | | |
| | | A carefully selected blend of Cargill® rapeseed and coconut oils, which help to mimic the look of classic meat burgers, help you achieve those recognizable white spots of animal fat in the patty. |
| | > | |
| ​ | | ​With our Taste & Color Partner, we've included a carefully balanced and codeveloped blend of natural flavors that mask the plant protein aftertaste, offer enhancement and add a savory note to the burger. |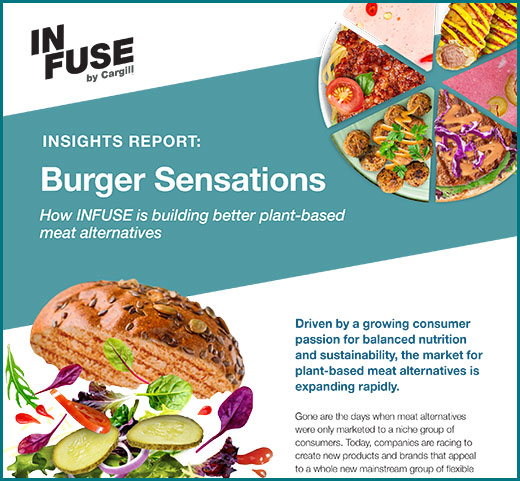 Plant-based burgers: insights & solutions
European consumers are furthest ahead in the consumption of plant-based beef products, on par with plant-based milks.
To learn more, download our Burger Sensations Insights Report and Product Leaflet.