The market for plant-based meat alternatives is expanding beyond the well-established formed meat alternatives for hot consumption. There is also a growing trend towards emulsified plant-based cold cuts too.
Creating an allergen-free, nutritionally balanced and sliceable plant-based cold cut that delivers on the meat-eating experience can be challenging though. Plant-based formulation poses especially a number of challenges in textural and processing characteristics. For example, easy to slice and bite of meat products are hard to mimic, the texture is often too soft and crumbly, or too hard and brittle and water binding is a key parameter to control. Moreover, plant-based proteins can have an aftertaste which needs masking.
INFUSE can help you overcome these challenges by employing a multiple ingredient approach, leveraging our broad Cargill building blocks of plant proteins, starches, and texturizers, and through effective formulation fine-tuning. Our specifically designed blends help you deliver high quality meat free sliced products that consumers can enjoy without any compromise on the eating experience.
Answering consumer demand for mouthwatering plant-based cold cuts
Our prototype is based on pea protein, and uses Flanogen® REM 2760 - our carefully blended solution of hydrocolloids, citrus fiber and functional, clean-label starch to achieve a final plant-based cold cut recipe that delights the taste buds, and still delivers on the core processing parameters.
Our solution helps to create authentic, meaty texture, easy to slice and firm bite, improved cooking stability at higher temperatures and meets requirements for vegan and vegetarian claims. Our plant-based cold cut recipe has a balanced nutritional profile and improved Nutri-score versus a standard meat reference, with energy reduction and high in protein claims.
On top, it does not require a gluten nor lactose allergen declaration in the EU.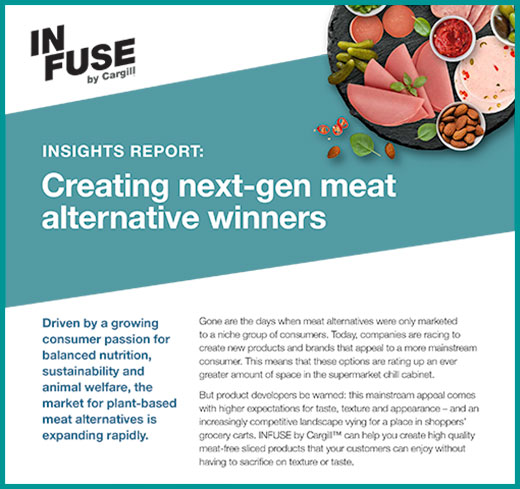 Cold cuts insights & solutions
To discover how INFUSE is taking plant-based meat alternatives further, download our latest insights report, recipes and product solutions.