Consumer trends are becoming increasingly complex. Amid this dynamic, plant-based is a key trend that shows no sign of abating, with fiber and especially protein-enriched meat substitutes enjoying accelerated product innovation activity.
Creating a nutritional hot dog without the use of animal-based ingredients, that still meets consumer expectations around organoleptic and texture qualities can be challenging though.
Replicating traditional meat-based hot dogs requires the careful combination of ingredients, and technical and formulation expertise. It requires work on texture and product stability during cold storage conditions, as well as on delivery of 'snap'-like bite, firm texture and succulent hot dog at hot consumption temperatures.
INFUSE can help you overcome these challenges by employing a multiple ingredient approach, leveraging our broad Cargill building blocks of plant proteins, starches and texturizers, and plant-based fats & oils. Through effective formulation fine-tuning, we can design tailored ingredient blends that benefit from the synergies between individual ingredients, and help you deliver the high-quality plant-based hot dogs consumers can enjoy without compromise on the eating and preparation experience.
Answering consumer demand for mouthwatering top dogs
Our prototype is based on pea protein, and uses Flanogen® REM 1580 - our carefully blended solution of carrageenan and gums to achieve a final plant-based hot dog recipe that delights the taste buds, and still delivers on processability, emulsion stability and texture authenticity.
Our solution helps to create a snap-like bite, juicy and firm texture at hot consumption, no gelled structure at cold storage conditions and meets requirements for vegan and vegetarian claims.
Our plant-based hot dog recipe has a balanced nutritional profile enabling a source of protein claim. On top, it does not require a gluten nor lactose allergen declaration in the EU.
Last but not least, C*PolarTex®06727 - a carefully selected modified starch based on waxy corn - helps to overcome freeze-thaw stability challenges, and helps to withstand heat treatment as hot dogs are often sold after being on grilling plates for several hours.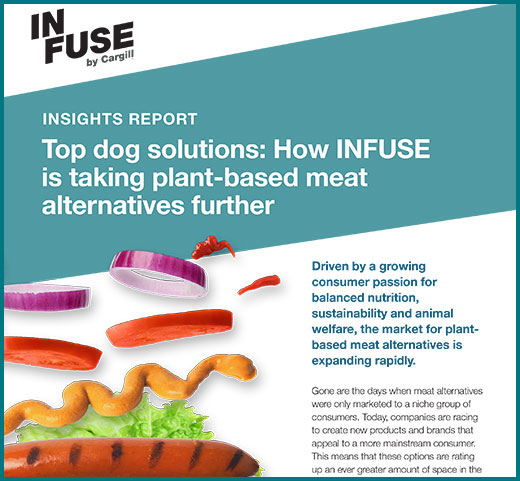 Top dog insights & solutions
To discover how INFUSE is taking plant-based meat alternatives further, download our latest insights report, recipes and product solutions.