Plant-baked Perfection
Plant-based is becoming an increasingly important trend in bakery, as vegan claims proliferate on new product launches, and egg-free recipes come into ever greater demand.
Replacing eggs in bakery is a major challenge, however, as it is such a multi-functional ingredient. Eggs have different functionalities, by providing a matrix to your food system: It coagulates, delivers texture, and brings volume and air into your system. It is particularly this issue around volume in egg-free recipes that has proved to be such a challenge to bakery product developers in the past. After all, a cake containing too little air will be dense and will collapse.
INFUSE has great solutions for a variety of sweet bakery products such as muffins, cupcakes, loaf, pound and sponge cakes, based on a label-friendly ingredient approach leveraging building blocks of plant proteins, starches, and fibers. These solutions help you achieve plant-baked perfection!
Our Solutions
Thanks to our carefully blended solution of wheat proteins, starch and fiber - all label-friendly ingredients, requiring no E-number declaration - we are able to achieve a final vegan recipe that can work well for a variety of sponge recipes such as muffins, cupcakes, loaf and pound cakes, with nice volume achieved.
Our solution enables creation of full egg-free recipes and hence meets requirements for vegan and vegetarian claims and helps to deliver an open crumb structure, sweet balanced taste as well as good mouthfeel and good chewability versus reference egg recipe.*
On top, it is freeze-thaw stable for added convenience.
*Source: Quantitative Diagnostic Analysis, Expert Panel, Vilvoorde, May 2021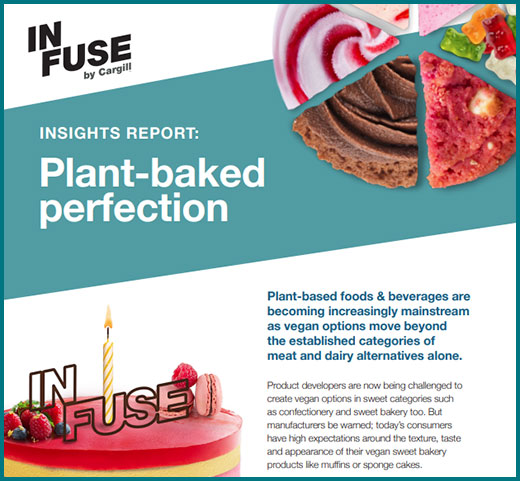 Plant-baked Perfection Insights Report
Plant-based foods & beverages are becoming increasingly mainstream as vegan options move beyond the established categories of meat and dairy alternatives alone.