Given a heightened focus on health, beverages like smoothies are ripe for reformulation. They've become a real favorite on the breakfast table, but these fruit-filled drinks are typically low in protein and high in sugar.
Historically, texture and taste limitations kept brands from improving the nutritional profile of their smoothie-style products. Proteins often have an aftertaste that requires masking, especially when developers aim for higher inclusion levels. In many ways, sugar reduction is even more complex. Beyond the obvious flavor challenges, sugar reduction can impact mouthfeel and lead to beverages with a watery texture.
INFUSE by Cargill™ can help you overcome those challenges by employing a multiple ingredient approach, leveraging our broad Cargill building blocks of sweeteners, texturizers, plant proteins, and fibers and bulking agents, and through effective formulation fine-tuning.
Our specifically designed blends help you create protein-rich, sugar-reduced smoothies, without sacrificing their fresh, fruity taste and smooth mouthfeel.

Answering consumer demand for simplicity, sensory appeal and nutrition
Our prototype is using Trilisse® QSR 905 – our carefully blended solution of plant proteins, fiber, label-friendly texturizers and sweeteners to achieve a nutritionally balanced smoothie with Nutri-score C that is high in protein and with source of fiber claim and low in sugars yet it still offers the great taste and mouthfeel that consumers expect.
• Plant protein blends deliver a neutral taste profile, without aftertaste or coloring
• Fiber brings back bulk
• Label-friendly texturizers (corn starch and pectin) provide a great mouthfeel and texture
• Our sweetness blend delivers a great, sweet taste with lower calories
This all-in-one solution is made from plant-based ingredients and does not require an allergen declaration. A unique recipe in the market today, it allows for easy processing and is fully optimized for nutritionally balanced, juice-based smoothies.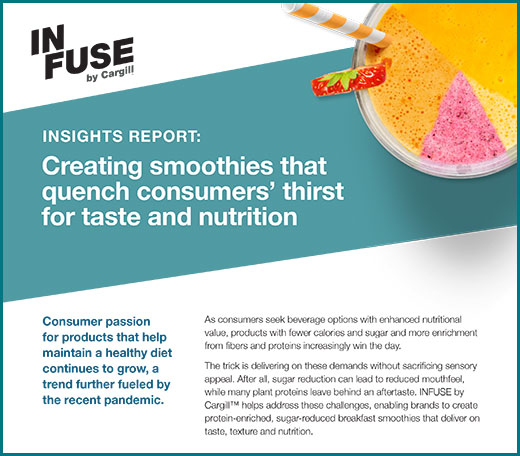 Protein-enriched smoothies insights & solutions
To discover how INFUSE is taking protein-enriched beverages further, download our latest insights report, recipes and product solutions.