As more consumers seek plant-based options that support their fitness regimes, products with high (alternative) proteins and fewer calories and sugar increasingly score on the market.
The trick is delivering on these demands without sacrificing sensory appeal. After all, plant proteins can leave behind an aftertaste and impact texture.
INFUSE by Cargill™ can help you overcome these challenges, by employing a multiple ingredient approach, leveraging our broad Cargill building blocks of plant proteins, starches and texturizers, and sweeteners. Through effective formulation fine-tuning, we can design tailored ingredient blends that benefit from the synergies between individual ingredients, and help you create the high-quality plant-based sports powders and RTDs consumers desire to stay in shape.

Answering consumer demand for plant-charged performance
We have created two prototypes which use the same three blends but in varying dosage depending on the consumer needs it addresses: muscle building or muscle recovery.
Plant-based protein blend: Trilisse® MM 100:
A blend of pea and rice proteins designed to deliver the right level of Essential Amino Acids and leucine in particular
No added sugar blend: Trilisse® QSR 900:
A blend of sweeteners designed to deliver a well-balanced sweetness profile without adding to the calorie level
Texturizing blend: Lygomme® KCT 58:
A blend of xanthan and guar gum designed to improve mouthfeel and reduce sedimentation
Our muscle building prototype delivers 26g of proteins, over 10g EAA and over 2g leucine per serving. Our muscle recovery prototype delivers 20g protein and 21g of carbohydrates.
Both prototypes deliver an indulgent chocolate taste, with no graininess and are low in sugars, sporting a Nutri-score B rating.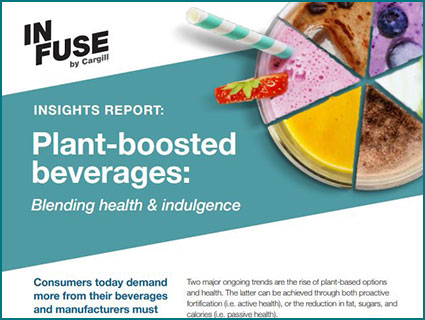 Sports Powder Drinks insights & solutions
To discover how INFUSE is taking plant-based beverages further, download our latest insights report, recipes and product solutions.