EU Labeling and Legislation for Stevia-based Sweeteners
Regulation (EC) N° 1333/2008 on food additives and its amendments provides a list of food categories where E 960 Steviol glycosides is permitted in the EU market.
Steviol glycosides are allowed to be used in energy-reduced foods and beverages or foods and beverages with no added sugars at specific maximum limits.
For restrictions and exemptions laid down in the Regulation, the following definitions apply;
'Food with no added sugars' means a food without the following:
(i) any added monosaccharides or disaccharides;
(ii) any added food containing monosaccharides or disaccharides which is used for its sweetening properties.
'Energy-reduced food' shall mean a food with an energy value reduced by at least 30 % compared with the original food or a similar product.
Labelling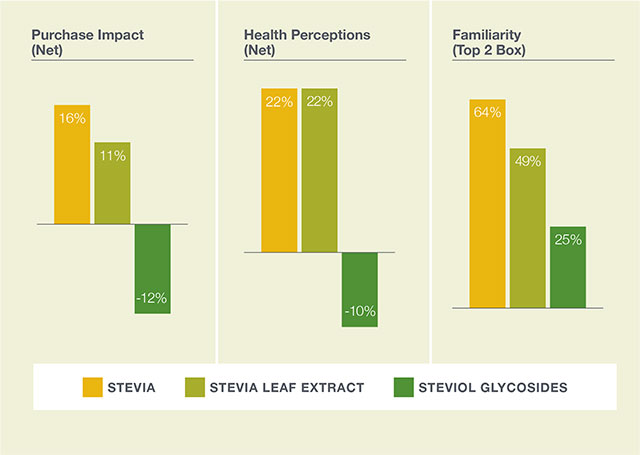 Good news for manufacturers producing food & beverages with stevia!
Cargill IngredienTracker™ shows that consumers have lower familiarity with steviol glycosides. By bringing the familiarity and understanding of stevia to the full ingredient labeling 'steviol glycosides from Stevia' consumers can now better understand the ingredient and its botanical origin.
The currently authorized food additive 'steviol glycosides (E 960)' should be renamed to 'steviol glycosides from Stevia (E 960a)'. All entries for steviol glycosides (E 960) in Part E of Annex II to that Regulation should be replaced accordingly, while maintaining the currently applicable uses and maximum level for authorized uses and use levels.
In order to allow economic operators to adapt to the new rules, the Regulation provides for a transitional period during which the food additive 'steviol glycosides from Stevia (E 960a)' and foods containing it may continue to be marketed as 'steviol glycosides (E 960)'.
The food additive 'steviol glycosides' (E 960) and foods containing it, which are labelled or placed on the market up to 18 months after the entry into force of this Regulation (13 January 2023) and which comply with the requirements of this Regulation, may be marketed until the stocks are exhausted.
We therefore recommend including steviol glycosides from Stevia from now on in the ingredient declaration on the labels of finished products.
*COMMISSION REGULATION (EU) 2021/1156 of 13 July 2021 amending Annex II to Regulation (EC) No 1333/2008 of the European Parliament and of the Council and the Annex to Commission Regulation (EU) No 231/2012 as regards steviol glycosides (E 960) and rebaudioside M produced via enzyme modification of steviol glycosides from Stevia.
If you'd like to know more about this topic, please get in touch:
Sorry, this form is not available.
Our Offer
Cargill scientists have spent over 300,000 hours studying the unique properties of the stevia leaf. Our broad portfolio of stevia sweeteners, proven formulation expertise and deep market insights translate into your competitive advantage. A rigorous specification process ensures consistent product quality – regardless of growing season – for your end-products.