The Next Generation of Bakery Shortenings
A look at the new products and processes designed to meet the changing needs of your customer.
Download our complimentary report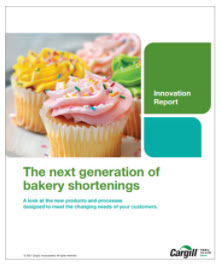 To say bakery fats are complicated is an understatement. Palm Oil has largely replaced PHOs for bakery shortenings over the past decade. But palm oil comes with some functional challenges, high saturated fats and environmental concerns. Download our whitepaper today and learn how our industry is addressing today's functional issues and taste preferences.
Tell us a little about yourself
(Download is available immediately upon submission)
Looking for a sneak peak?
Download Next-gen Bakery Shortenings Infographic