Our new Brazilian pectin plant
We're well on track
Once completed in the second half of 2021, the Bebedouro plant will strengthen Cargill's position in the global pectin industry. Construction of our new HM (High Methoxyl) pectin plant in Bebedouro, Brazil (in the São Paulo State countryside) is at an advanced stage, with operations due to start in the second half of 2021. We are investing US$150 million to create the world's most modern pectin operation, with state-of-the-art technology and highly efficient processing. It will focus on high-methoxyl (HM) type of pectin product portfolio for applications in dairy drinks, juice beverages, jams and confectionery markets.
The fact that construction of the green fields plant is on schedule is testimony to the dedication of our teams and partners. Despite the unprecedented pandemic scenario, construction could continue, while following all safety and health protocols.
This investment will significantly expand our ability to supply to customers across all regional markets. Historically, Europe has been and still is the largest market for pectin. But during the last decade, demand for pectin has expanded across all regions, especially Asia.
The Bebedouro facility is strategically located in a key citrus-producing region, ensuring an abundant supply of fruit fresh from the field. It will help meet the growing global demand for pectin, as consumers look for label-friendly and vegetarian alternatives. Plant technology is cost efficient and sustainably (re)uses water and other resources, where possible. Cargill is also investing in a waste treatment facility, considering long-term changes in local and national regulations.
Production at Bebedouro will complement our three other pectin factories, which are all located in Europe. Cargill has a strategy to become a significant and sustainable leader in the global pectin market, through its reliable and high-quality Unipectine™ offering. We operate a diversified raw material sourcing program that includes long-term partnerships with a growing base of peel and pomace suppliers. Our procurement strategy is based on in depth market intelligence and is grounded on thorough quality and compliance checks.
We're looking forward to serving you up even more great pectin solutions in 2021 and beyond.
Read about our pectin strategy in our detailed article by Judd Hoffman, Segment Director Texturizers & Specialties and Rajiv Mehta, Growth Program Manager – Pectin.
Label-friendly and vegetarian trends spell pectin opportunity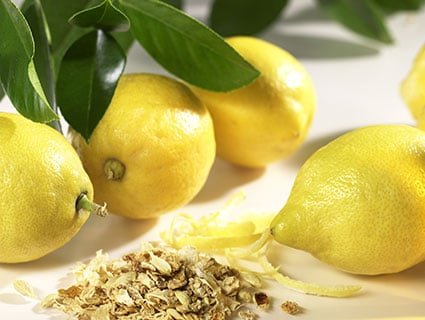 Pectin is trending in new product launches and reformulation projects. Growth is driven by the increasing demand for label-friendly, vegetarian and vegan options.
Pectin market demand projected to grow at a minimum of 3% CAGR from 2019 to 2025.*
+7% CAGR in pectin inclusion in global new product launches (2018 vs. 2013).**
Drinking Yogurt/Fermented Beverages (+18%), Gummies & Jellies (+15%) and Dairy-Based Ice Cream & Frozen Yogurt (+12%) are the fastest growing global categories for pectin inclusion (2018 vs. 2013).**
Pectin is present in 80% of all Jams & Fruit Spreads launches containing a "natural" or "no additives/preservatives" claim.***
Pectin is present in 44% of all Spoonable Dairy Yogurt launches containing a "natural" or "no additives/preservatives" claim.***
*Global Trade Atlas 2019.
**Sum of Bakery, Confectionery, Dairy, Desserts & Ice Cream, Pet Food, Ready Meals, Sauces & Seasonings, Soft Drinks, Soups, Sauces & Spreads. Source: Innova Market Insights, October 2019.
***Europe and North America launches in YTD 2019. Source: Innova Market Insights, October 2019.

Making a clean switch: The pectin advantage
The label-friendly solution: Pectin is a plant-based ingredient present in the cell walls of all higher plants. It serves as a water-soluble ingredient with gelling and thickening functionalities.
The well-known solution: 51% of US and European consumers are aware of pectin. It has a positive health perception compared to competing ingredients.
The versatile solution: Pectin can be used in anything from flavor-filled gummies to acidified dairy products. It's an excellent thickener, gelling agent and stabilizer, even in low sugar applications.
The sustainable solution: Most of the pectin in use today is sourced from apple pomace and citrus peel, both byproducts of juice production. There's little waste when it comes to this process.
*Source: Cargill Ingredient Tracker (US, 2017; Europe, 2018)

Powerful in pectin: Our global asset footprint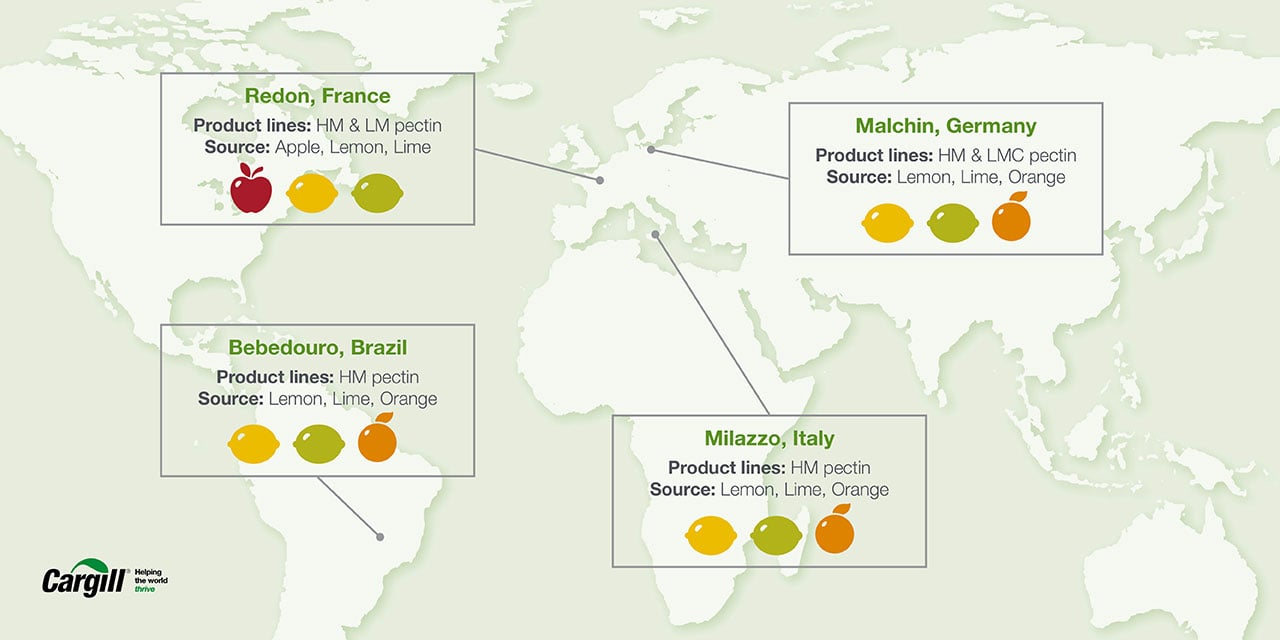 Cargill's pectin milestones