Bioindustrial
The Issue
Bio-based solutions promote sustainable production of renewable resources from land and sea—including crops, forests, fish, animals and micro-organisms—for use in the production of food, fiber, bio-based products and bioenergy. Bio-based solutions come as a response to environmental challenges as well as to growing consumer demand for personal and home products that are socially responsible, renewable, biodegradable, less toxic, safer and more "natural." Industry, business incubators, scientists and others also are driving the market for these solutions through innovation and technological breakthroughs in the sector.
Our View
Cargill believes that sustainable, bio-based alternatives to fossil-based products and chemicals provide a range of benefits to society—including reduced human and ecological health risks, enhanced energy efficiency, fewer environmental emissions and less waste.
Cargill supports the production and use of bio-based products that provide performance and sustainable benefits when compared to non-renewable alternatives—and has created a dedicated global bioindustrial business group, operational in June 2018, to address the growing demand for these bio-based solutions.
Cargill believes that bio-based products can help meet environmental goals and decrease dependence on nonrenewable resources in alignment with the United Nations Sustainable Development Goals and the Paris Agreement's global climate objectives. Cargill encourages responsible, sustainable agricultural practices in the production of the raw materials used for bio-based solutions. Furnishing safer, more sustainable bio-based solutions aligns closely with Cargill's food-based mission of "nourishing the world in a safe, responsible and sustainable way."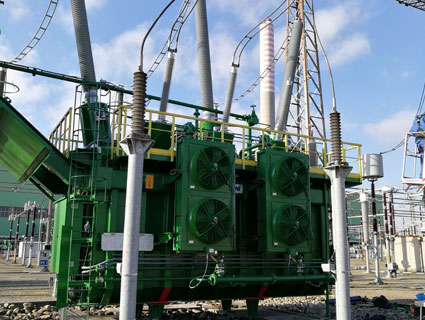 Tamini uses FR3™ fluid with TUK to achieve greater continuous load capacity in new autotransformer design
Nature-derived chemistries to increase performance for industrial applications