Market Access
Increasing the availability of safe, affordable, nutritious food
The world has the land and capabilities to produce enough food to meet the nutritional needs of our growing population. As we focus on improving access to safe, affordable, nutritious food, Cargill's role is to ensure food moves to where it's needed.
Cargill understands markets – and what it takes for crops to be commercially viable. We bring that market insight to our collaboration with farmers, governments, civil society groups and other partners as we work together to tackle food security challenges around the world. We share our expertise in crop storage, transportation, market fluctuation and pricing to help develop long-term solutions and help farmers thrive.
Open trade and functioning markets are necessary to delivering long-term food security. Cargill is committed to transparent, market-based pricing to help achieve food security. Open markets help fight poverty and hunger by enabling the trade that allows agricultural commodities to move from places of surplus to places of deficit. Governments increasingly understand that effective and efficient markets are key to food security, and that actions that distort markets and provide a disincentive to farmers are harmful.
Smallholder farmers in particular benefit from increased access to credit, proper crop storage, reliable markets and transparent pricing.
Transporting food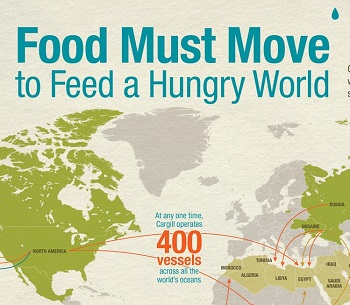 In the future, more food will need to be grown farther from where it is consumed as populations expand rapidly in urban areas and in places most affected by climate change. We improve access to food by leveraging the global scale of Cargill's logistics network, supply chain expertise and market knowledge to transport food from areas of surplus to areas of need.