Cargill opens new U.S $40 million chicken processing facility in Russia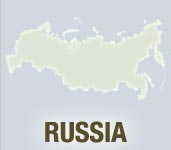 Cargill began its activities in Russia in 1991. With nearly US$900 million invested in the Russian agricultural and food processing sectors, Cargill is one of the leading foreign investors in Russia.
Moscow, Russia — 4 June 2013 — Cargill has officially opened a chicken processing facility at its complex in Efremov, Russia. This poultry facility represents a further investment of US$40 million at the company's industrial complex, located 300 kilometres south of Moscow. The facility - which marks Cargill's first primary chicken processing operations in Russia – will predominantly supply McDonald's restaurants in Russia with high quality Chicken McNuggets as well as other chicken products.
Today's ceremony to officially open the new facility was attended by Vladimir Gruzdev, Tula oblast Governor and senior representatives from Cargill and McDonald's.
"Cargill has had a strong business relationship with McDonald's for many years and when sourcing locally became a key requirement for McDonald's in Russia, we were pleased to be able to work together and help them find a solution," said Jeremy Graves, General Manager, Cargill Meats Europe. "Our processing plant and our joint efforts to build a sustainable local supply chain is yet another example of the ongoing collaboration between our two companies."
"As part of this investment to establish a local chicken supply chain in Russia, Cargill has started to develop local supply partnerships with Russian poultry rearers in order to ensure that the locally sourced chicken meets Cargill and McDonald's high quality, food safety and welfare requirements.
Graves continued, "The long term goal is that we will source the majority of our chicken in Russia and allow McDonald's consumers to benefit from high quality products produced in country from Russian reared chickens."
According to Irina Korshunova, Supply Chain and QA Director East Division & Russia at McDonalds, "We are pleased that Cargill, as one of the global food industry leaders, is producing chicken products for the consumers of McDonald's products in Russia. From the time we decided to enter the Russian market, we started developing a local producers' network with Cargill. We are confident that the successful partnership between McDonald's and Cargill will continue to thrive with poultry production in Russia."
The facility which has employed over 140 local staff has the capacity to produce 18,000 metric tonnes per annum of high quality further processing chicken products and will be a valuable addition to Cargill's existing group of businesses in Efremov.
Cargill's operations in Efremov include a corn and wheat sweeteners plant; a vegetable oil refinery and bottling facility; a malt plant and an animal feed mill. Cargill's vegetable oil refinery already supplies oil to McDonald's restaurants in Russia and now oil is also being used in the poultry production process for the nuggets and patties.
Graves concluded, "We are fortunate to be able to be part of such a strong cluster of businesses, to be able to leverage synergies and to learn from Cargill's many years of experience in Russia in order to grow our poultry business in the region. Cargill is committed to our operations in Efremov, the Tula region and Russia."
- Ends -
Notes to editors
Cargill
Cargill helps customers succeed through collaboration and innovation, and is committed to sharing its global knowledge and experience to help meet economic, environmental and social challenges wherever it does business.
For more information, visit http://www.cargill.com.
Cargill in Russia:
Cargill began its activities in Russia in 1991 with the opening of a representative office in Moscow, although a prior trading relationship with Russian based organisations dates back some 30 years. In total, Cargill Russia employs around 2,700 people. With nearly US$900 million invested in the Russian agricultural and food processing sectors, Cargill is one of the leading foreign investors in Russia.
Cargill in Efremov:
Cargill made its first investment in Efremov in 1994, when it acquired a starches and sweeteners plant. Since that time, the company has invested more than US$400 million in upgrading the facility, which has become a significant supplier of corn syrup and starch in Russia. Cargill has built a malt plant and an additional sweeteners plant at the same location, investments totalling more than US$100 million. In 2007, a vegetable oil refinery and bottling plant were added to the Efremov complex. These facilities produce a range of liquid vegetable oils and fats for the Russian market and supplies Russian own- label and foodservice customers. An animal feed mill was added to the complex in 2009. In 2011 Cargill launched the production of pre starter and starter feed for baby pigs and chicken on Efermov production site. the same year Cargill and Tula Government signed the Agreement on investment into expansion of wheat processing facilities at Cargill industrial Site in Efremov.Cargill currently employs more than 1000 people in Efremov.
# # #