Discover Food2Beauty and more!
Cargill Beauty introduced 2 new concepts at in-cosmetics Global in Paris, 2-4 April 2019:

Food2Beauty, a new concept by Cargill Beauty.
Here are some questions we have for you :
Have you ever had pleasure to spread mayonnaise on your skin?
Ever been tempted to indulge your skin with a dessert ?
Did you know that an ice cream can moisturize your skin ?
Do you really think I will scrub my skin with a cookie ?
Would you believe your breakfast could one day clean your skin ?
Did you know that a lemon can create your favorite texture ?
Want some answers? Get inspired as you are immersed into the world of food, see how classic food recipes can provide solutions to inspire you with innovative products. Cargill Beauty worked closely with Cargill food scientists to develop a range of six personal care recipes. Discover how Cargill Beauty translates the science behind your favorite foods 2 beauty.

FiberDesign™ Sensation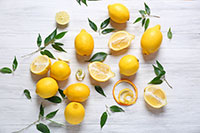 Cargill Beauty is one step ahead when it comes to upcycling Beauty, with our newest innovation FiberDesign™ Sensation. For years, Cargill has aspired to achieve zero waste by using side stream of the food-grade lemon juice to extract pectin, a food texturizer. Today Cargill Beauty goes for a lemon valorization up to 96% ! Creating a new texturizer and emulsion stabilizer for cosmetics based on citrus peel fibers from pectin side stream. FiberDesign™ Sensation, a powerful duo made of activated Citrus Peel Fiber & Sclerotium Gum able to texture & stabilize emulsion for skincare. FiberDesign™ Sensation is biodegradable and derived natural, 100% natural origin (according to ISO 16128).

Cargill Beauty also sponsored the Sustainability Corner at in-cosmetics Global, with the introduction of 2 new Promises:
The Cargill Red Seaweed Promise™
To help ensure a long-term sustainable red seaweed supply chain, Cargill has launched the Red Seaweed Promise™. The program is specifically designed to address key sustainability challenges for the harvesting and cultivation of red seaweed, while enhancing producer livelihoods, supporting local communities and conserving the marine environment.
Read more >>
The Cargill Waxy Corn Promise™
A farm-based program raising starch sustainability across Europe. This unique sustainable starch program leveraging the strong partnerships we have with farmers and co-op suppliers is addressing key sustainability challenges in the waxy corn growing regions. Externally verified and benchmarked Silver against the SAI Platform, the Waxy Corn Promise™ delivers on consumers expectations for more sustainable ingredients.
Read more >>