Carrageenans
Carrageenans are extracted from red seaweed using a gentle and environmentally friendly process. They are made of natural polysaccharides with sulfated galactose units that can be classified into 3 main families: Iota, Lambda and Kappa. Depending on the grade, Carrageenans are thickening and/or gelling agents.
With over 50 years of experience, Cargill has acquired a thorough knowledge of all relevant technologies in carrageenan manufacture and formulation. Our expertise is based on our knowledge of both the specific characteristics of carrageenan and the requirements of a broad spectrum of industries and functionality, including beauty and personal care, resulting in specially tailored products optimized for different applications.
Cargill offers one of the widest ranges of commercially available carrageenan, employing proven production processes and using a large variety of different types of red seaweed.
It is our mission to promote the use of land and support farmers livelihood.
At Cargill, it is our ambition to enable seaweed producers and their communities to achieve better incomes and living standards in a way that will accelerate progress towards a sustainable and transparent global red seaweed supply chain by focusing our investments and efforts across four areas.
Cargill provides training, coaching & tools to support the best environmental practices and delivery of high quality red seaweed. We will continue to help strengthen seaweed producers and their communities, provide access to clean water, ensure no child or forced labor, promote gender equality and break down barriers to economic development. We develop accessible, responsible and resilient production systems as well as farming tools to sustain red seaweed production.
We continue to strengthen the close partnerships with our suppliers and industry organizations to collaboratively develop a sustainable red seaweed supply chain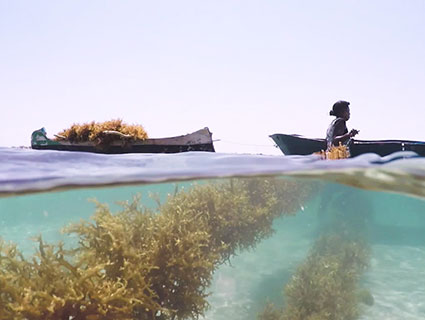 Sustainable Seaweed
Cargill's Red Seaweed Promise™ - leading the industry towards a thriving red seaweed sector for generations to come.