A disability won't stop Paul Brick from bringing joy to all who know him
August 05, 2021
Paul Brick loves to make connections. In the nearly two decades that he's worked for Cargill, he's made it a point to connect with a few people every morning to simply check in, say hello and let them know someone is thinking of them.
"I like working with people that I know by name, that I can keep in touch with and develop friendships," he says.
Paul came to Cargill in 2002 via Lifeworks, a nonprofit organization that champions inclusion and breaks down barriers for people with disabilities. He began sorting and delivering mail a few hours each day. Since then, he's been promoted a number of times and gradually taken on larger responsibilities. Today, Paul is a mail and office coordinator.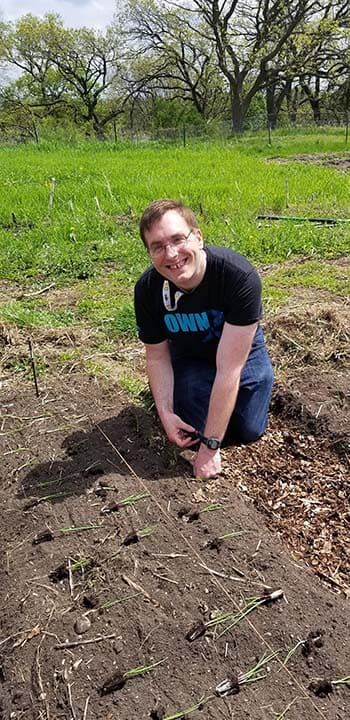 "We're looking to show the broader community that people with disabilities are valued and can be productive and relied upon," says Todd Truen, Paul's longtime Lifeworks job coach.
July 26 was National Disability Independence Day, which commemorates the 1990 signing of the Americans with Disabilities Act, prohibiting discrimination against people with disabilities. The landmark bill was an important step for people like Paul and the millions of Americans who live with a disability.
The heart of the business
Since the beginning, Paul has worked for Cargill's animal nutrition and health business. Although he's been with Cargill for many years, he's never lost his excitement for the company, his role or the people he works with. Even during the pandemic, Paul made it a point to virtually connect with at least two or three people each morning to brighten their day during a particularly difficult time.
"Paul is a really good representation of what we strive for in our culture," says his manager, Karen Weyrauch. "He's very proud to have his job and he definitely doesn't take it for granted."
Paul's pride and enthusiasm for his job shines through in his day-to-day interactions. Colleagues say it's rare to catch him in a bad mood. Even if he's busy or having a tough day, you'd never know it.
"Paul is really the heart of our business," Karen reflects. "Pretty much everyone knows him, and the leaders and other employees really enjoy working with him and appreciate the energy that he brings."
One of those leaders is Joe Stone, the executive vice president of Cargill Agricultural Supply Chain and Corporate Trading. Joe has known Paul for more than 15 years and considers him a lifelong friend. The two share a love of cars and have a particular fondness for Porsches.
Joe recently purchased an older model Porsche, and just last month the two went for a ride and stopped for lunch at Paul's favorite restaurant. It was a typical meal between two old friends, but the conversation was meaningful, as it usually is for Joe.
"I learn a lot from Paul," says Joe. "He is really observant and always shares what he is learning with me. Paul has the best memory for names of anyone I know. We sit and talk about the people that we have worked with — and he remembers them all! That's a lot of people over more than 15 years."
Joe has watched Paul's progression at the company and believes he's a pioneer in paving the way for others with disabilities. Paul shows that there are no limits to a person's abilities if they are committed to doing great work and looking out for the people around them.
"Paul makes Cargill better," says Joe. "He works so hard, always has a great attitude and is a role model for our company values."
Cargill has been a great fit for Paul. He says that every day he's welcomed by the people around him and feels like he truly belongs.
"I feel like family," he says.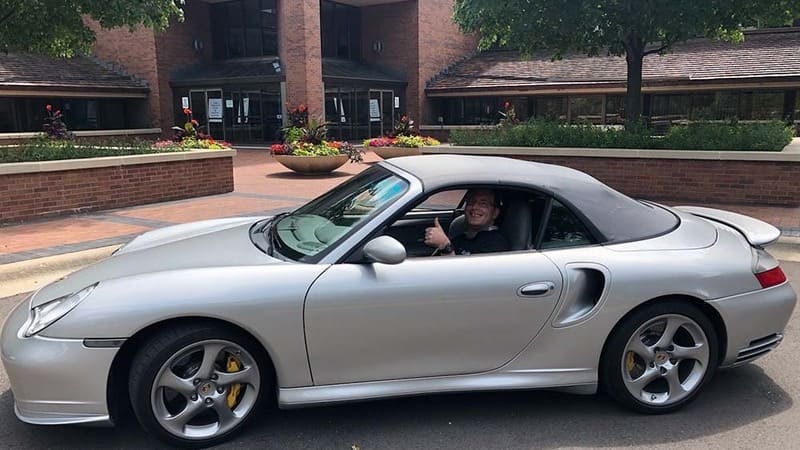 Paul takes the wheel (of Joe Stone's Porsche!)
Empowered to succeed
Cargill is continuing to work to create a more diverse, equitable and inclusive environment. The Cargill Ability Network (iCAN) supports those efforts by helping to maintain a workplace where people of all abilities can be empowered to succeed.
Recently, Cargill received a 100 score on the Disability Equality Index for 2021 — a testament to the company's efforts to build a community where all perspectives and abilities are welcomed.
Paul has always been an advocate for people with disabilities. His many years of work at Cargill and strong relationships with the colleagues he's worked with show that people of all abilities can make a difference when given the opportunity.
Like so many others, Paul's job was in question when the pandemic hit. With offices closing, it wasn't clear what would happen to his role. Fortunately, his manager, Karen, jumped into action and made sure Paul was able to work remotely from his apartment. She and others recognize that Paul is an asset to the company not only because of the great work he does, but because he lives out the Cargill values on a daily basis.
"Paul has shown that he's just as capable as anyone else to do his job," Karen says. "I believe in him and everyone around him believes in him."