A sustainable approach to fizzy drinks
How capturing and recycling CO2 helps reduce waste and benefits beverage makers.
January 04, 2018
When managers at the Cargill Starches & Sweeteners plant in Manchester, England, looked at how much CO2 they were throwing away in the process of making ethanol from wheat, they saw an opportunity to do better.
Carbon dioxide, or CO2, is created during the fermentation process used to produce ethanol from grain. The odorless gas comes out in raw form, which isn't useful for much and generally considered waste.
But there are many uses for CO2 so long as it's treated properly. It is, after all, the same stuff used to put the fizz in fizzy drinks. Purified, liquid CO2 is widely used in the food and beverage industry for chilling, freezing and carbonating drinks.
"As we seek to improve our environmental footprint and work toward achieving zero waste, this stood out as a huge opportunity," said Paul Kingston, plant manager for Cargill Starches, & Sweeteners in Manchester. "We realized that there were probably organizations out there with the expertise to turn this waste into something useful."
With an aim of reducing the plant's CO2 emissions by 21 percent in 2017, the team reached out to BOC, the UK and Ireland's largest provider of industrial, medical and specialty gases. Together, they formed a partnership to capture, purify and liquefy the gas so that it could be reused by the food and beverage industry.
As a result, the CO2 that is a byproduct of the ethanol production process now finds a "second life" in fizzy drinks and other foods and beverages, instead of ending up in the atmosphere directly.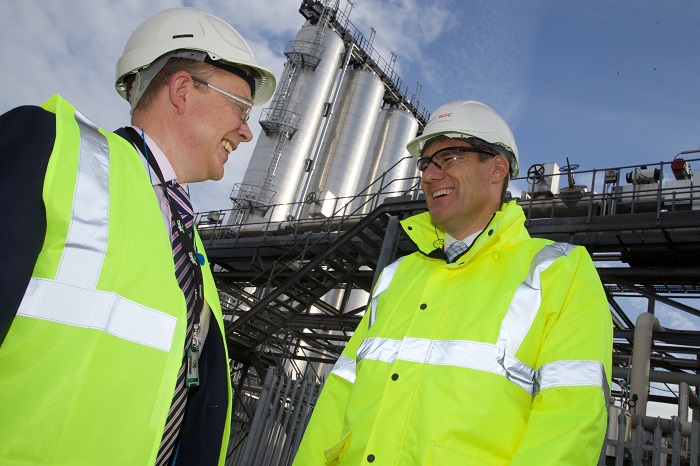 Cargill's Paul Kingston (left) and BOC's Oliver Pfann (right) are collaborating to transform a waste gas into a useful product.
After two years of planning, the project came to fruition when BOC recently opened a CO2 purification plant in Manchester alongside Cargill's facility. It's the first such plant for BOC in the UK, and is expected to become one of the region's most reliable sources of CO2.
Now that the purification plant is fully operational, Cargill Manchester is recycling or repurposing the majority of the CO2 waste stream from its production process. Here's how it works: Cargill's by-product CO2 is pumped directly into the new BOC plant, where it is purified, liquefied and sold to UK food and beverage makers.
"Cargill strives to be the most trusted source of sustainable products and services, and this partnership allowed us to take a big step forward toward reaching that goal," said Kingston. "This innovative partnership has also been good for business, because we're offering food and beverage customers a product that they need."
For Oliver Pfann, head of BOC UK, Ireland and Africa, the project has been a prime example of successful collaboration.
"Cargill and BOC share the same commitment to sustainability and focus on the customer," said Pfann. "Together, we can transform what used to be called waste into something of real value to the industry."