Cargill brings together global farmers to find common ground in Iowa
December 03, 2018
They came from all over the world.
Ten farmers, each from a different country, converged on the small town of Eddyville, Iowa, to visit Cargill's corn mill and biorefinery on a chilly October day.
They were there as part of the Global Farmer Network, a nonprofit organization that provides a platform for farmers all over the world to address shared challenges.
"There is power in collaboration," said Mary Boote Roth, CEO of the organization, which has a membership of 180 farmers from 60 countries. "We are here to make sure that farmers have a strong voice on critical issues such as trade and technology."
Once a year, the Global Farmer Network invites about a dozen new farmers to join its ranks. The invitation includes a trip to the World Food Prize, an annual event in Des Moines, Iowa, that recognizes contributions to the global food system. During the World Food Prize, the farmers participate in media interviews, a roundtable discussion and other events geared toward preparing them to become international ambassadors for agriculture.
This year, the trip to Des Moines included a short detour to Eddyville as part of Cargill's partnership with the Global Farmer Network.
"Farmers are at the core of our business," said Taryn Barclay, senior director of strategic partnerships and stakeholder engagement at Cargill. "Bringing this group together in Eddyville was an opportunity to hear their thoughts on the issues that matter to all of us."
A common language
Cargill's 9 million square-foot biorefinery campus sits on 1,500 acres of land. The facility processes hundreds of thousands of bushels of corn each day, which it turns into products for the food, feed and bioindustrial sectors. Much of the corn comes from farms within a 60-mile radius of the plant.
"Coming here and seeing the level of what you guys are doing is just inspiring," said Rodney Kili, a second-generation farmer from Kenya who grows maize, barley and wheat. "We do 90 tons a day at our maize factory. We're able to buy maize from other farmers, just helping other farmers get a market for their produce. So, this is quite inspiring to me."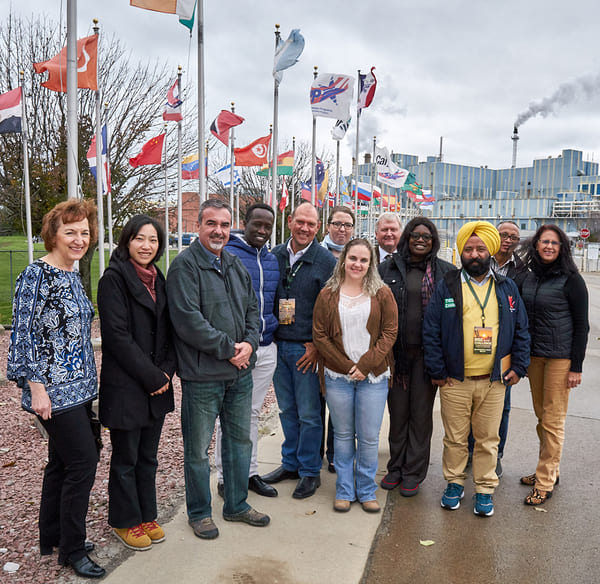 Most importantly, the plant visit offered a new backdrop for the farmers to exchange ideas. With representation from Argentina, Australia, India, Ireland, Japan, Kenya, Mexico, Nigeria, the Philippines and the U.S., the group brought diverse perspectives but still managed to find plenty of common ground.
"We speak the same language—maybe not literally the same language— but the same language of farming," said Cheryl Hazenberg, a native of Canada who now runs a dairy farm in Ireland with her husband. "We're able to say, 'Yeah, I have that problem, too.' And how we can come together in terms of solutions is fabulous."
For the Cargill team in Eddyville, the visit was a reminder of how Iowa is connected to the global agricultural community.
"We were honored to share what we do here," said James Pumphrey, regional sweetener manufacturing technology lead for Cargill. "It was fascinating to hear the farmers' stories and gain a better understanding of what matters to them. As a global company, it's important to have that perspective."