Serving up stew and cooking skills in Nicaragua
The World Food Day event was one of 120 worldwide hosted by Cargill to raise awareness of food waste issues
January 22, 2018
For World Food Day in Nicaragua, a chicken stew was on the menu at San Pedro Apóstol School in Ticuantepe. Visiting chefs helped the parent-volunteer cooks prepare the meal for 170 students while talking about food safety and reducing food waste. The parents learned how to get the most out the vegetables from their school garden, fully utilize all parts of the chicken and safely handle raw meat.
The international chefs were from World Central Kitchen, a Washington, D.C. non-profit that taps into its global chef network to promote the importance of well-prepared nutritious, safe food to empower communities and strengthen local economies. They joined 15 Cargill cooks to host training workshops on reducing food waste and improving food safety.
"School lunch is the main meal for many students, so we want to make sure we are making the most of it," said Maria Nelly Rivas, Cargill's Corporate Affairs director in Central America. "The parent-volunteers can also take these lessons and better utilize the food they have at home to extend their resources."
The event in Nicaragua in October was just one of many across Central America, where 250 Cargill volunteers reached 30,000 customers, consumers and communities to raise awareness of food loss and waste.
Worldwide, Cargill employees organized more than 120 events in 30 countries to celebrate World Food Day for Cargill Project 1/3, which worked to raise awareness that approximately one-third of all food produced for human consumption every year goes into landfills or is uneaten. That amounts to 1.3 billion tons.
Our events included cooking competitions with Thanksgiving leftovers in Canada, working with food waste organizations and school awareness workshops in Europe and conducting canteen food waste audits in India.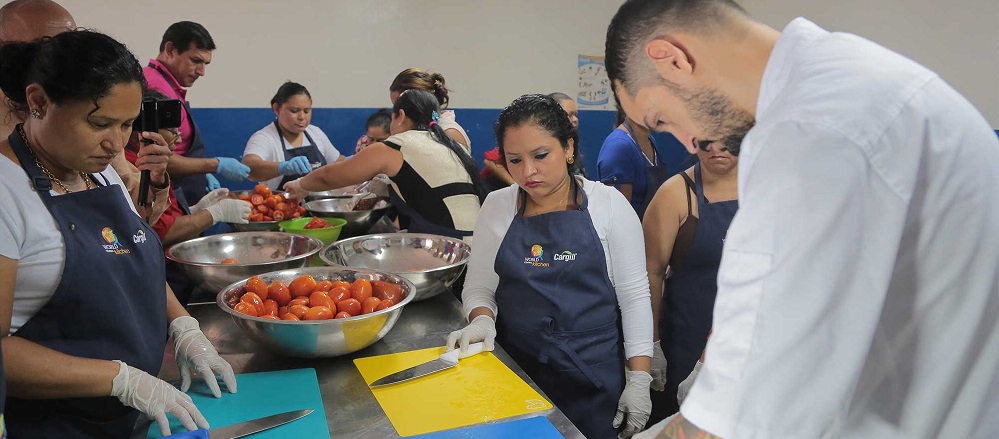 Other World Food Day highlights
Spain: Employees adopted a centuries-old practice called "gleaning" and partnered with farmers through the Espigoladors association to help collect leftover crops from fields that would have otherwise gone to waste.
Volunteers collected 3,000 kgs of produce which equalled 7,500 portions of food, saving 563 kg of C02 and 1 million litres of water. All recollected food will be processed to produce jams and soups, giving people with limited access to resources a chance to earn a livelihood and promote food security in the community.
China: We launched an online food waste campaign through WeChat, a popular social media app in the country. The campaign called on employees to submit pictures that showed food waste or actions being taken to reduce it. For each picture submitted, Cargill in China donated a nutritious meal to youth in rural communities where we operate. A total of 355 photos were submitted, with more than 100 of the photos being submitted within the first hour of the campaign launch.
Cargill Project 1/3 helped bring to life our commitment to the 17 Sustainable Development Goals adopted by the United Nations to end all forms of poverty, reduce inequality and tackle climate change by 2030. These goals go hand-in-hand with the Zero Hunger Challenge, which aims for sustainability across food systems, reducing food waste and ultimately eliminating hunger.
"World Food Day is just one way Cargill raises awareness and engages employees in meaningful actions to nourish the world in a safe, responsible and sustainable way" said Michelle Grogg, Corporate Responsibility and Sustainable Development lead and executive director of The Cargill Foundation.
By the numbers: Cargill's World Food Day 2017
190 Cargill locations
30 countries
60,000 people reached
3,000 employee participants