Making connections across land and sea: Cargill brings together farmers to explore sustainable, grain-based solutions for aquafeed.
October 14, 2019
Carla Orellana had never seen canola up close before. Walking through the flowering yellow canola fields at the foothills of the Rocky Mountains near Great Falls, Montana, the salmon farmer from Puerto Montt, Chile was interested to learn more about this unfamiliar crop.
She was in Montana – along with two other salmon farmers from her home country – to see firsthand how Cargill created a canola-based source of omega-3 for fish feed.
It was part of a multi-state tour that also included stops at Cargill's canola innovation center in Fort Collins, Colorado, and its corn milling complex in Blair, Nebraska. Each stop showcased a different aspect of how Cargill produces sustainable, plant-based ingredients for aquafeed. But more important than the tour itself was the opportunity to connect people across the global supply chain: canola growers, fish farmers, and even the CEO of a popular seafood restaurant group.
"By bringing together these representatives from different parts of the supply chain, they each gain a better understanding of where it begins and who is ultimately impacted," said Mark Christiansen, managing director of Cargill's specialty oils business. "Cargill is uniquely positioned to connect the dots."
Bred for sustainability
The salmon farmers on the tour already use aquafeed made with Empyreal 75®, a corn-based protein concentrate produced by Cargill's corn-milling business. But they're also prospective customers for the company's oils business, which is developing a new canola-based source of omega-3 for fish feed called Latitude™.
Latitude is made from canola that was bred to have high levels of EPA and DHA omega-3 fatty acids. As a plant-based source of long chain omega-3s, Latitude relieves harvesting pressure on the usual source of the fatty acids: wild-caught forage fish. In fact, one cup of Latitude canola oil delivers the same amount of omega-3s as more than 200 anchovies.
This is what brought the distant travelers to Montana, where the specialty canola used to make Latitude is exclusively grown. At the heart of the specialty canola business are farmers like Tyler Pasha, who partner with Cargill to grow new varieties of the crop.
"My dad has been farming his entire life, 60 plus years," Pasha told the group during a tour of his farm. "I've been back on the farm for eight years, and we want to take care of the land as best as we can. Diversifying what we grow on it to keep our land healthy is really important for us."
He went on to explain how canola has helped improve the quality of his soil since he began using it as a rotational crop. The yellow flowers – a bold contrast to the wheat and barley most common in Montana – have deep roots that help loosen the soil and provide minerals that can benefit future crops.
Pasha wasn't involved in developing Latitude, but he's interested in growing the variety someday.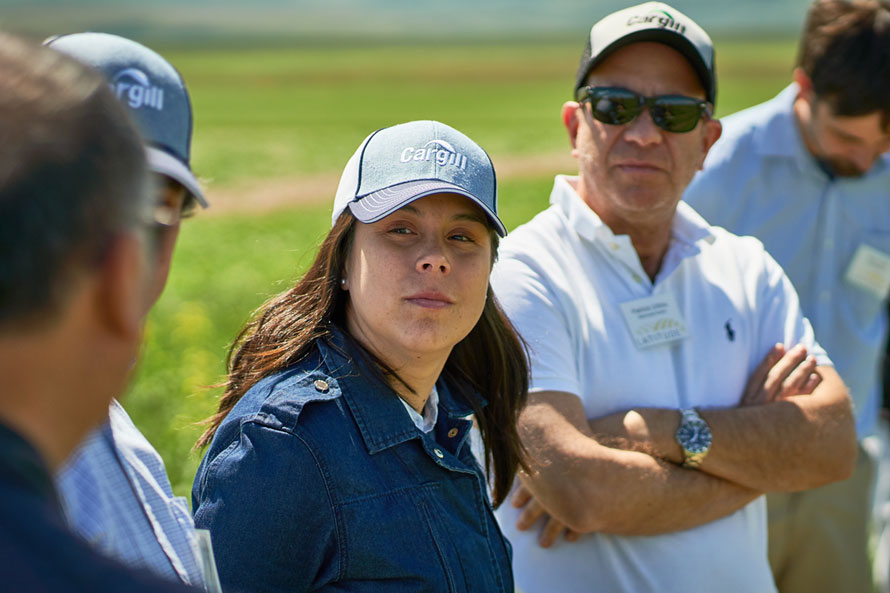 Carla Orellana (center) is a salmon farmer from Puerto Montt, Chile. She visited Montana to see how Cargill created a canola-based source of omega-3 for fish feed. After meeting Orellana and the other salmon farmers, he has a better idea of the market it serves. And Orellana and her peers now better understand what goes into growing canola.
"For me, this visit is fantastic," she said. "I work in salmon nutrition, but I am also an agronomist, so to connect this with both sides of my work and see everything that goes into this product – it's a great experience."
Latitude is currently grown in Montana, but with recent deregulation from the United States Department of Agriculture (USDA), it may now be grown anywhere in the U.S., bringing it one step closer to commercialization.
Where land meets sea
By contrast, Empyreal 75 – Cargill's corn-based protein concentrate – has been commercially available since 2008, shipping at a rate of 130,000 tons annually. As a source of protein for aquafeed, this ingredient provides the essential amino acids and key nutrients that fish need, while offering the industry a sustainable alternative to fishmeal.
Empyreal 75 is produced in Blair, Nebraska, where the tour concluded with a visit to one of Cargill's wet corn milling facilities to see how it's made.
"People like to use the word 'sustainable,'" said Eric Bell, Cargill's product line lead for Empyreal 75. "I prefer to use 'progressively responsible.' I don't want us to stand still; I would like us to continue to focus on paradigm-shifting change to help the industry and create a viable food source for the world."
Ultimately, ingredients like Latitude and Empyreal 75 will feed the fish that end up on the plates of consumers. How to serve consumers for generations to come is always on the mind of Legal Sea Foods CEO Roger Berkowitz, who operates a chain of family-owned casual dining restaurants on the East Coast of the United States.
During the Cargill tour, Berkowitz emphasized that consumer demand for salmon continues to grow, and said he is hopeful that more farm-raised fish will help replenish wild stocks.
"With warmer water temperatures, native species are getting much harder to catch, so farming is really an answer to the loss of the wild stocks," he said. "Perhaps some of the wild stocks will come back if some of the pressure is taken off of them."
Cargill's plant-based alternatives for aquafeed are part of the solution, and an opportunity for industries to collaborate in new ways.
"Here's an area that we're pioneering, bringing together industries that hadn't had much interaction before," said Christiansen. "We're all committed to doing things right, producing things for the next generation. Bringing everyone together gives us an opportunity to expand all of our horizons."