Taking action to help in a crisis
Cargill works with partners World Food Program USA and CARE to provide food and nutrition assistance in East Africa
April 05, 2017
Ilhaan Hussein knew she needed to do something.
For weeks, the operations analyst for Cargill Risk Management watched from her Geneva office as she saw news reports of worsening drought, famine and suffering in her native Somalia.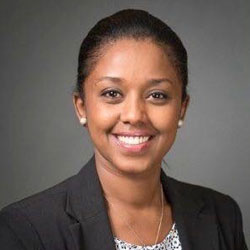 Ilhaan Hussein, operations analyst for Cargill Risk Management in Geneva. She reached out to colleagues to see if Cargill had plans to respond to famine and hunger across East Africa, where as a whole more than 16 million people are at risk of acute hunger from extreme drought exacerbated by economic instability and conflict.
She learned that Cargill was taking action, donating $150,000 each to longstanding partners World Food Program USA and CARE. The funds will help with emergency relief in some of the hardest-hit areas of Kenya and Somalia, where the two organizations are working on the ground to implement short- and long-term responses the situation.
Born in Mogadishu, the Somali capital, Hussein fled with her parents and siblings at the age of 8 as the country was engulfed in civil war in 1991. Her parents worked for the U.N. at the time, and were able to resettle in Switzerland. After growing up there, Hussein went to university in London, then returned to Geneva to start a career. Today, she's a mother of two boys and has worked for Cargill in risk management since 2014.
"I know it's one of Cargill's goals to be an inclusive company, and this makes me feel included," she said. "People who sit next to me know where I'm from. I feel proud."
Emergency relief amid ongoing work
Cargill's immediate donations to WFP USA and CARE are each going to strengthen resilience in the midst of the current crisis in East Africa, even as the company works with both organizations to address long-term challenges in the food system more broadly.
Funds to CARE are combating water scarcity in Kenya for agricultural households and their livestock. Targeting Garissa county, more than 10,000 people are expected to benefit.
The emphasis is on solutions for women and girls, who often bear the main responsibility for supplying water to the household. Traveling long distances daily in search of water can put them at risk. And increased access to safe water and hygiene facilities can dramatically reduce girls' absenteeism in primary school, according to a study done in Kenya.
"What we see are people already past the brink and desperately appealing for help as quickly as possible. Their livestock, on which they depend to survive, lie dead across the parched landscape," said Raheel Chaudhary, CARE Country Director in Somalia, describing the situation across the region.
"Around villages with some remaining form of water source, camps of internally displaced pastoralists are getting larger by the day, consisting mostly of women and children, who are particularly vulnerable to the health hazards of drinking polluted and increasingly saline water. They need shelter, protection and dignity," Chaudhary added.
Support for WFP USA will deliver nutrition assistance in Kenya and Somalia, providing immediate relief, including life-saving curative and preventative nutrition for children under 5, and for pregnant and nursing mothers.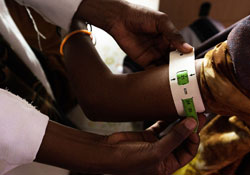 In Somalia, Saddo Abokor Warsame is being measured for moderate acute malnutrition at the WFP-funded center in Hargeisa, Somaliland. Mrs Warsame is a mother of four and nine months pregnant, which means she's especially vulnerable to the effects of malnutrition. In Somalia, famine is looming as the result of three consecutive seasons of poor rainfall and protracted conflict. Right now, Somali farmers in the hardest-hit areas are witnessing large-scale crop failure and high numbers of livestock are dying. WFP has mobilized teams on the ground to provide immediate assistance in the worst-affected areas using a combination of food distributions and cash-based transfers. In February, WFP scaled up its operation to reach almost 1 million people in the country with emergency food relief – more than double the number assisted in January.
In Kenya, WFP is helping 650,000 food-insecure people, mainly herders in the country's arid and semi-arid lands, build resilience to drought. These activities include fodder production to feed livestock and water-harvesting techniques to capture what little rainfall the region receives.
"Humanitarian assistance has saved lives in the drought-affected north over the past year, but as the crisis spreads we have no time to lose," said WFP's Somalia Country Director Laurent Bukera. "Together with UNICEF and other partners, we are moving as quickly as possible to reach many more people with lifesaving support using every option we have, including cash-based transfers, specialized nutrition support and airlifting of relief goods."
Both organizations have ongoing partnerships with Cargill to strengthen global food and agriculture, and these funds are in addition to grants announced earlier this year. In March, Cargill and CARE said they were extending their 50-year relationship with a new three-year, $7 million cycle of projects that aims to help 1 million people in eight countries by 2020. The focus is on strengthening rural agricultural communities through a variety of proven approaches.
In October, Cargill announced a two-year, $1 million grant to WFP USA to support school meal programs in Kenya, Indonesia and Honduras, aiming to reach 100,000 children.
In Kenya, smallholder farmers are participating in the program, strengthening their access to markets and ultimately helping them connect and sell into Cargill's supply chain. Cargill buys, cleans, grades, stores and transports grain in the country, with about 180 employees at locations up-country in Nakuru, in the capital of Nairobi and at the port of Mombasa.
"Our aim is to add value within the agricultural supply chains by forging a link between farmers and millers, so that grain in the field can be processed into everyday household items such as flour and bread," said Alex Dietz, commercial manager for Cargill Kenya.
Taking action
Although Hussein has been happy to see Cargill take action in East Africa, she is not sitting still herself.
A university friend doing humanitarian relief in the outskirts of Mogadishu told Hussein the need for vaccinations and treatments is dire, so she set out to find a way to raise money to assist.
"Even if we just raise a few thousand, it's something," Hussein said.
With Easter approaching, she had the idea to sell chocolates to her co-workers in her office. When she contacted members of Cargill's European cocoa and chocolate business, they agreed to donate about 40 kilograms of chocolates. In addition to the Geneva location, a Cargill office in France also is participating. A couple of FedEx shipments later, and employees were able to get a treat during a break while also contributing positively to the situation.
"I knew my team would support me," Hussein said. "I've never seen a company so involved in contributing to nourishing communities."
Cargill and its employees are taking action to impact famine and strengthen food and nutrition security.
Additional links: