Young animal nutrition: more than a feed formula
Cargill's innovative feeds, ingredients, and comprehensive customer support are helping swine producers around the world optimize their animals' health and productivity.
August 21, 2020
Nothing so significantly impacts the health, growth, and viability of production animals—and the overall success of producers' operations—as the nutrition provided to those animals during the early stages of their lives. Young animal nutrition (YAN) plays a critical role in developing immunity, promoting efficient weight gain, and reducing mortality for young animals of all kinds. Once they're off to a good start, these animals deliver higher performance throughout their entire lives.
That's why Cargill's Animal Nutrition & Health (ANH) business has placed such a high priority on offering its customers the YAN solutions that do just that. For swine producers, ANH has developed a broad spectrum of YAN solutions for young pigs, including complete feed and concentrates, processed ingredients and milk replacers. These products are produced using carefully selected, high-quality raw materials and carefully manufactured while adhering to robust quality controls. Furthermore, ANH's suite of YAN solutions are supported by comprehensive customer support and the latest in micronutrition and digital nutrition capabilities. During the past two years, ANH has focused on expanding its swine YAN offerings and they're expanding their availability to customers globally.
"We're making great progress with Neopigg™ solutions—Cargill's swine brand for YAN—around the world, including strong growth in Brazil, China and Western Europe," said Elke Van Gelderen, Cargill Animal Nutrition global category leader for Neopigg™ solutions. "Currently, for example, our customers use the Neopigg RescueCare™ concept to feed more than 10 million piglets annually."
Customer satisfaction is growing
"Quality nutrition is what defines the quality of the animal—and Cargill invests a lot in the quality of nutrition at all stages," said a swine producer from Brazil. "We see that quality in the results of our animals."
A swine producer in China uses Neopigg™ products and has seen substantial improvements in the health of his animals. A recent batch of pigs carried a 97.85% survival rate (505 head) and averaged 19.68 kg at 56 days of age.
"We're very pleased with Neopigg™ products," he said, "The piglets are healthier and easy to raise. The batch uniformity has improved significantly—thanks to Cargill."
The ANH team in China is currently working to find solutions to help customers there satisfy new regulatory requirements that prohibit the use of antibiotic growth promoters.
In Western Europe, producers are seeing many positive impacts from using Neopigg™ solutions. Recent trials in the United Kingdom showed impressive gains, including increased growth post-weaning; better feed conversion rates; and a substantial increase in return on investment per pig ($.66).
"I decided to try Neopigg Shield™ because in the past, piglets often had problems going from the weaner diet to the starter diet," said a pig producer from Denmark. "I used to use zinc to ease the feeding transition and reduce the occurrence of diarrhea. Since using Neopigg Shield™, there have been no piglets with thin feces or diarrhea during the feed shift."
A pig producer from Belgium added: "I believe we can control stool quality with this concept, even without zinc oxide and antibiotics."
These comments show the need for ANH to continue to develop innovative solutions and maintain a strong focus for its customers so that they can satisfy both regulatory requirements and the emerging needs of consumers. One example of how ANH is responding is by providing customers with hydro-thermo, mechanical-treated (HTM) soy, which is incorporated into Neopigg™ solutions and offered to customers as a standalone ingredient so they can incorporate it into their own feed solutions.
"Simply stated, HTM is soy that has been mechanically processed with heat and water, which transforms the material into a more digestible product," Van Gelderen said. "It supports a healthy digestive tract and promotes growth."
HTM soy has been successfully used in parts of Europe for more than 10 years, but—because of its efficacy with young pigs—ANH is looking into increasing its production capacity and introducing it into its product line in other geographies. CAN currently produces HTM soy in the Netherlands, Spain and in three plants in China.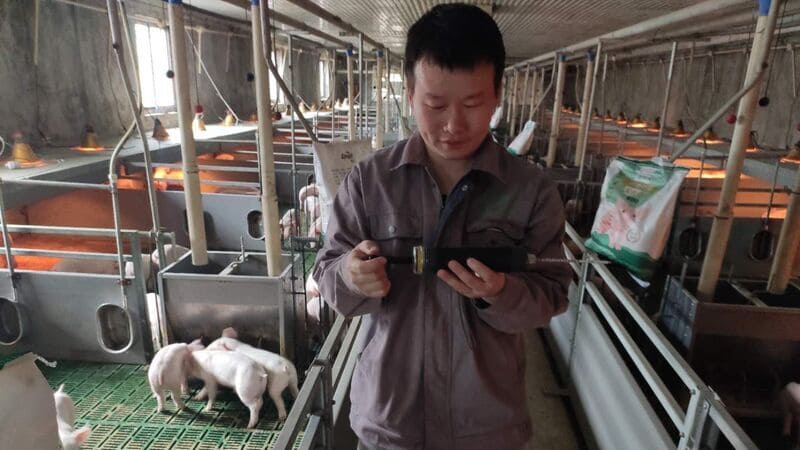 Reaching higher
"Customer satisfaction is strong—and growing stronger—both in developed and developing markets," Van Gelderen said. "We're also seeing a strong pull from within our business to accelerate YAN and leverage our solutions and capabilities to help even more customers globally."
Along with the strong focus on Neopigg™ solutions and YAN, Cargill's teams in these geographies have continued to offer strong support around biosecurity, feed safety, and quality control. Because it is part of Cargill, the ANH team is also able to better serve customers by leveraging the organization's global reach to source raw materials efficiently and to tap into its expertise across multiple market segments and industries, as well its world-class capabilities in everything from research and development, to bio-security, to operations.
"During the past two years, we have made great progress," she concluded. "But we cannot rest on our laurels. We must continue to leverage the advantages of working as one Cargill. And we must maintain the consistent quality of our products and services as we pursue our quest for new opportunities to help our customers thrive."