EpiCor Pet Postbiotic Ingredient
Leaders in Postbiotics
Differentiate with EpiCor® Pets Postbiotic Ingredient
EpiCor Pets is a postbiotic product composed of metabolites and beneficial compounds made through a natural fermentation process. Our postbiotic ingredient has natural antioxidant power and supports a dog's immune defenses to help them live more healthy days.
Are you a pet supplement manufacturer excited to add EpiCor Pets postbiotic to your next formulation? Our team can help with any questions you might have. Contact us today! Interested in EpiCor Postbiotic Ingredient for humans, visit our EpiCor postbiotic supplement ingredient page to learn more!
A new, natural* way to support pet's immune and gut health.
When you think of the gut microbiome, probiotics and yeast are like factories that use fibers, or prebiotics, as fuel during a fermentation process to make beneficial metabolites in the gut. With EpiCor Pets postbiotic you can fast-track this system and deliver those metabolites – and all the health benefits they offer - directly to the gut!
The EpiCor brand has a real-life health discovery story that consumers remember, and EpiCor Pets has the important attributes pet owners are looking for in products, such as natural, human-grade, Non-GMO Project Verified, Vegan, and Grain/Corn/Wheat/Soy/Pea Free. Not only that, EpiCor Pets is formulation friendly - it's stable through extrusion and other manufacturing processes and has a savory flavor that dogs love - making it simple to create supplements they'll enjoy.
*All references to natural/naturally are as defined by AAFCO
---
What's the Difference?
Prebiotics, Probiotics, and Postbiotics
The ISAPP consensus definition and scope for postbiotics is: "A preparation of inanimate microorganisms and/or their components that confers a health benefit on the host". EpiCor Pets postbiotic is a non-living composition of metabolites and functional compounds that have been shown over a dozen published studies to support immune and gut health. This infographic helps easily explain what makes postbiotics unique.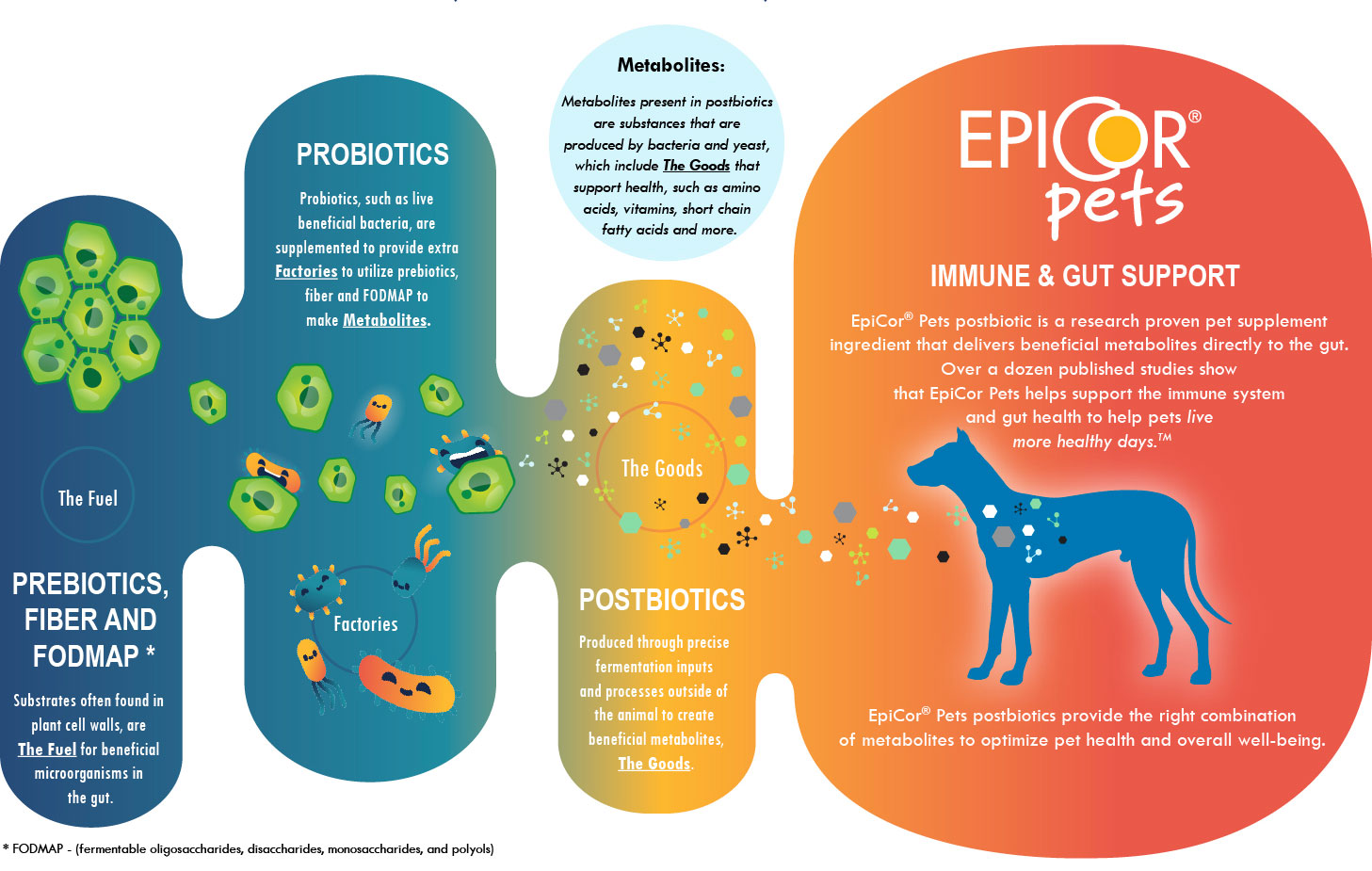 ---
Product You Can Stand Behind + Pet Parents Want
SCIENTIFICALLY BACKED &
HIGHLY EFFICACIOUS
The health effects of EpiCor postbiotics have been validated
8 human clinical studies
7 pre-clinical studies
3 dog studies
WORKS THROUGH THE GUT
Modulates the microbiome
Avoids the process stability challenges that probiotics face
Does not rely solely on resident gut microflora as required by prebiotics
PRODUCED CONSCIOUSLY
Fermented via a standardized and proprietary process
Non-extracted, all-natural whole yeast fermentate
All major manufacturing and food safety certifications
COMPELLING SUPPORT CLAIMS
Fits the desires of today's pet parents
Gut health
Immune health
Healthy microbiome
Breath control
STRONG BRAND SUPPORT
Supported by B2C marketing campaigns for human products
Educating on the postbiotic concept
Supports human-animal bond and growing pet humanization trends by pet parents
---
EpiCor Pet Postbiotic Supplement - Frequently Asked Questions
Why is EpiCor Pets unique?
As a human-grade, highly concentrated ingredient, EpiCor Pets is a unique combination of postbiotics and bioactive compounds that work naturally with the dog's biology to maintain immune strength and promote a healthy microbial balance.
How is EpiCor Pets made?
Epicor Pets is manufactured using our proprietary anaerobic Saccharomyces cerevisiae fermentation technology platform. This closely guarded process, which is exclusive to Cargill, produces unique bioactive compounds.
How does EpiCor Pets work?
EpiCor Pets has multiple modes of action:
Antioxidant Power — helps reduce oxidative stress
Immune Response — positively impacts both innate and adaptive immunity without "boosting" or stimulating unnecessary response
Digestive Health — supports digestive tissue integrity and healthy microbial populations
What are the key features?
Natural — EpiCor Pets is considered a natural ingredient as defined by AAFCO.
Highly Concentrated Ingredient — Needed only in small amounts, EpiCor Pets works well in supplements.
Built In Flexibility — EpiCor Pets is not manufactured using grains. It does not contain any corn, wheat, or soy products.
Demonstrated Functionality — We utilize only controlled research studies to validate product functionality.
Product Stability — The effectiveness of active components in EpiCor Pets is not compromised by extreme temperatures, pH, nor common pet supplement manufacturing processes, such as extrusion or retorting.
Human-Grade — EpiCor Pets is made in a human grade facility.
Consistent Quality — EpiCor Pets is made using only quality, reliable, traceable ingredients to ensure product consistency.
Manufactured in the USA — EpiCor Pets is manufactured in the USA from the world's finest ingredients.
What is the recommended inclusion rate?
Formulate into finished supplements to provide at a minimum of 7 mg per kg of body weight per day for dogs. This can be delivered in one dose or divided as multiple partial doses in a day. Feeding guidelines should reflect this requirement.
Is EpiCor Pets safe?
Yes, EpiCor Pets postbiotic has been thoroughly tested for safety.
Does EpiCor Pets impact palatability?
Research shows EpiCor Pets is 100% acceptable.
Is EpiCor Pets stable?
Yes, EpiCor Pets postbiotics is stable through extrusion and processing conditions normally found in pet supplement manufacturing.
How is EpiCor Pets different from other products in the marketplace?
EpiCor Pets postbiotic is not a single compound as are many functional ingredients in the marketplace. EpiCor Pets is a microbial fermentate that has its own unique "molecular fingerprint" consisting of multiple bioactive compounds and postbiotics that are created using Cargill's proprietary fermentation technology.
Is EpiCor Pets the same as MOS or beta-glucan products?
No! Most MOS and beta-glucan feed additives are by-products of other manufacturing processes. Our proprietary microbial fermentation technology using Saccharomyces cerevisiae results in a unique product consisting of multiple bioactive compounds in addition to the mannan oligosaccharide and βeta-glucan fractions.
---
Contact Us
Are you a pet supplement manufacturer excited to add EpiCor Pets postbiotic to your next formulation? Our team can help with any questions you might have. Contact us today!