Community Support
Improving community livelihoods to bring benefits across the cocoa sector
Many people in cocoa-growing regions lack access to services, including reliable education, healthcare, nutrition, and water. We strengthen these communities by improving access to services while, at the same time, helping to make people more aware of the social benefits of improving child protection, sending children to school, and empowering women.
Shared ownership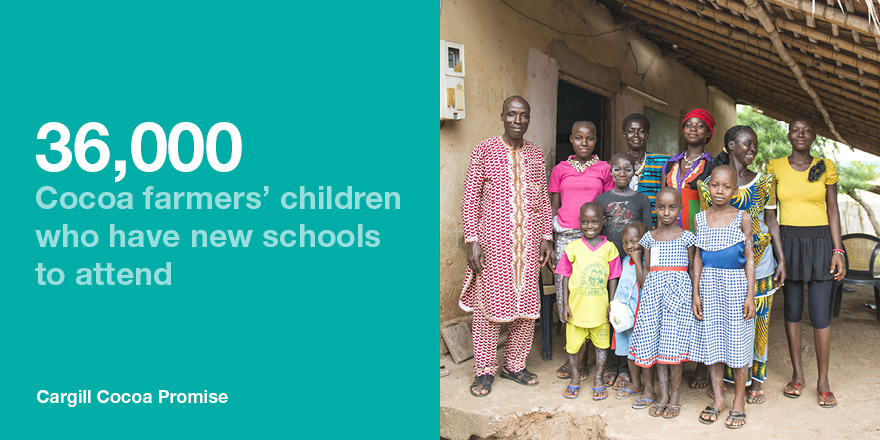 Our activities are focused on what communities tell us they need. Many of these initiatives are developed and implemented in partnership with external organizations and farmer organizations.
Before starting any initiative, we assess the community's needs and engage with farmer organizations. Gathering this input helps to deliver the greatest impact. It also means that there is shared ownership in all interventions. If local people feel involved and in control of solutions to the challenges they face, then they are more likely to succeed.
Shared ownership also makes it easier for us to understand what each local community really needs. This understanding is vital because every community is unique.
Community Action Plans
Together with people in cocoa-growing communities and our partners, we are developing and implementing distinctive Community Action Plans (CAPs) for each cocoa-growing community.
These plans reflect the needs of each community; they are set up, implemented and managed with Community Development Committees made up of local people.
Our CAPs have been developed together with CARE International and follow the methodology set out in the 2013 version of their Community Care Score Kit. This approach provides a way to identify how programs are experienced by, and work for, the people who use them and the people who provide them.
Empowering women
Too many women in cocoa-growing communities struggle to overcome gender inequality issues. As a result, they may be excluded from playing a role on their spouses' farms or as income generators in their own right. This is why empowering women is a key focus of our programs.
Through our Coop Academy, we train women who already work in leadership roles to become even more effective. These women provide positive role models for the importance and effectiveness of women's empowerment in cocoa-growing communities.
In partnership with CARE, we asked women how we can make our training more accessible. Having found distance and timing of training are key obstacles for women, we are considering running our Farmer Field Schools and other training initiatives in village locations at better times for women to attend.
We also trained 100 agents on the importance of improving the accessibility of our programs to women. We believe that if our implementing partners have a better understanding of some of the key issues affecting women's access to training, then they will be able to improve the delivery of our Cargill Cocoa Promise programs.
Business and productivity training for women
We have launched a business and productivity training program exclusively for women. The program has been developed with WCF and is being implemented by ANADER, with 1,000 women in Côte d'Ivoire participating.
A key aim of the program is to encourage women to become involved in cocoa farming because they recognize it as a viable business activity. Through training they gain basic literacy skills, if needed, along with an understanding of farm finance and business planning, and advice about how to set up saving clubs. The program also gives them an understanding of the good agricultural practices required to set up a cocoa farm or seedling nursery.