Innovations for Transparency
Accelerating progress towards a transparent supply chain
We are committed to helping consumers around the world choose sustainable cocoa and chocolate products with confidence. Our customers and their consumers care more than ever before about the standards behind the things they buy – including the products, materials and ingredients, at various stages in the food value chain. For certified products, they want to know that their investment is delivering the benefits they are promised.
Supply chain transparency is the extent to which information about participants and processes involved is available to its participants and other stakeholders. It is a key driver for improving sustainability, efficiency and stakeholder trust.
From farmers and suppliers to manufacturers and retailers, demonstrating the origin of cocoa and how it has been produced requires openness and cooperation across the value chain. As a global supplier of cocoa and chocolate products, a transparent supply of cocoa and chocolate is fundamental to the delivery and credibility of the Cargill Cocoa Promise. To achieve it, we focus on:
making traceability the standard in our direct sourced cocoa supply chain
working towards sourcing, manufacturing and marketing 100% sustainable cocoa and chocolate ingredients
sharing an honest and transparent story about our sustainability journey with customers and consumers
Traceability: from cocoa farm to chocolate bar
In the context of supply chain transparency, traceability is a method of tracking products backwards and forwards through the supply chain. We need to be able to provide information for our customers and their consumers about beans of many different origins, taste and colour profiles. Successful traceability depends on the involvement and commitment of many participants in the supply chain, including over 400,000 smallholder farmers.
Full traceability: a new global standard
Our new goal is to work towards sourcing, manufacturing and marketing 100% sustainable cocoa and chocolate ingredients, and making traceability the standard in our direct sourced cocoa supply chain by 2030. To achieve it, we will need to be able to guarantee the credibility of our systems and the claims we make.
Certification – a powerful tool and information source
Certification schemes are integral to our approach. They provide internationally recognized and independent standards for sustainable production – in effect, a clear and credible framework for sourcing cocoa more sustainably. These schemes, including those run by UTZ Certified, Rainforest Alliance and Fairtrade, set out economic, environmental and social standards, which help farmers to improve their farming practices. They make sure farmers are achieving these standards through regular audits of farmer organizations. And, via their labels, they offer a signal to the consumer that a product has been responsibly produced. Independent auditors verify the certification schemes we use, providing transparency in our supply chain. Their audits also provide information that enables us to measure the effectiveness of some of our programs and build customer confidence that their investments in certified products are delivering the outcomes they are promised. Because of the strength of our relationships with farmer organizations and advances in technology, we can give customers increasingly accurate information about where and how their premiums are spent.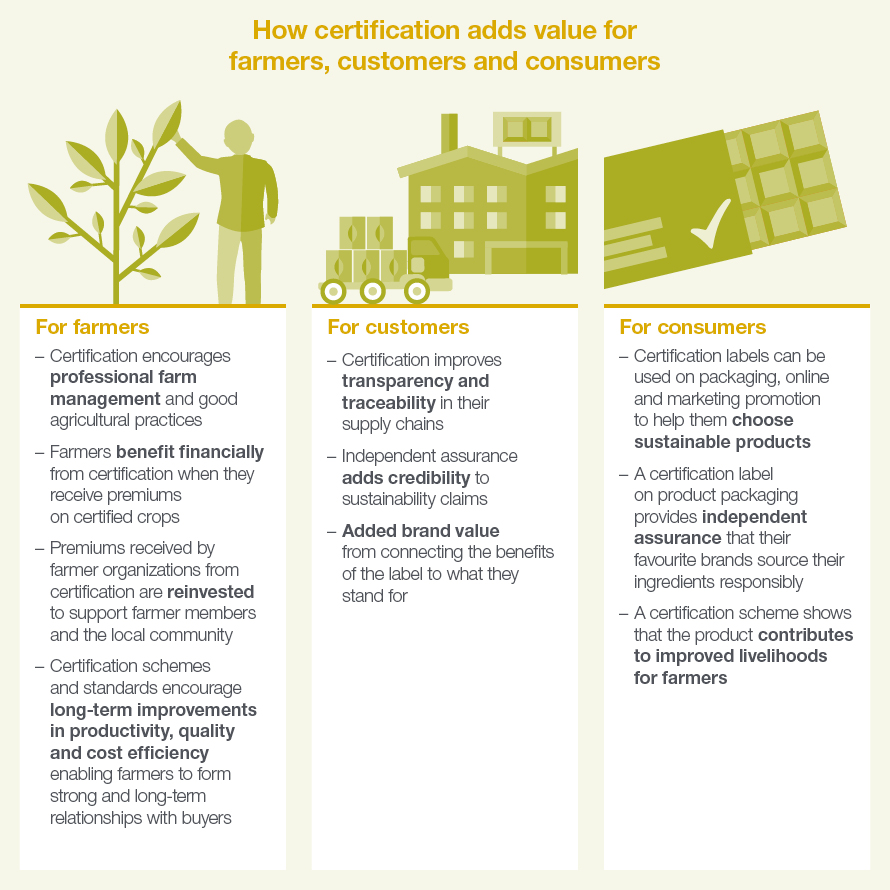 The role of technology and innovation
As customers and consumers drive up demand for sustainably sourced cocoa, investment in technology is key. Advances in innovation and technology are creating new opportunities to manage a continuous flow of complex data, both at the farm level as well as systems that can track beans throughout the factory manufacturing process, while creating products of consistent quality and flavour profiles.
"SourceTrace" is our bespoke monitoring and evaluation platform developed specifically to improve traceability and data management in our cocoa supply chain. The platform uses innovative software to collect and manage data about individual farms and farmers, household members, communities, cooperatives and social infrastructure. It links up information across different initiatives – such data collected via the CLMRS and data collected via GPS mapping and has so far been implemented in Côte d'Ivoire, with plans to extend it into Cameroon and Ghana in the coming year.
Through the Cargill Cocoa Promise, we are realizing the opportunities offered by mobile money, GPS mapping and digital data collection, which allow for greater transparency on how cocoa is grown and sourced from farmers.