Pure Marine Fuels™
Lower costs, reduce risks and enhance the transparency of your bunker procurement
Our Solution
Securing the right bunker fuel in the right ports might make all the difference for operating your business seamlessly and protecting your margins. However, energy procurement is increasingly complex, uncertain and volatile across the maritime supply chain due to regulatory changes and decarbonization requirements.
Today, we can help you with a solution to bunker fuel procurement that gives you enhanced access to competitive pricing, optimized bunker logistics and improved claims support. We can navigate the energy transition together, providing you with our expertise in renewable biofuels, shipping ecosystems and the future of maritime fuels.
What is Pure Marine Fuels™
Pure Marine Fuels™ is a strategic partnership between Cargill and Maersk Tankers. We offer marine fuel procurement as a service to tramp shipping companies and trading houses.
Key features and benefits
Scale and market presence
We aim to deliver savings per metric ton, better service from suppliers, operational flexibility, port optionality, and more.
Better market prices compared to benchmarking average
Secure availability and port optionality
Optimized supplier relationships based on your needs
Transparency
We provide full transparency on the final price, offering direct invoicing from the supplier, documentation, performance monitoring and smart analytics to drive your decision making.
Simple US$/MT fee
Fully documented process
Digitalization of the procurement process
Quality assurance and lowered risks
Get access to our extensive network of carefully selected suppliers and strong internal processes.
Market recognized credit and counterparty risk approval process
Strongly negotiated terms and conditions
Market monitoring
Pre- and post-delivery service
We provide technical expertise and advice on claims management, giving you support from planning to delivery and post-supply.
Comprehensive support of your claims
Proprietary oil market analysis, to help you optimize your procurement strategy
End-to-end procurement handling
Keeping you one step ahead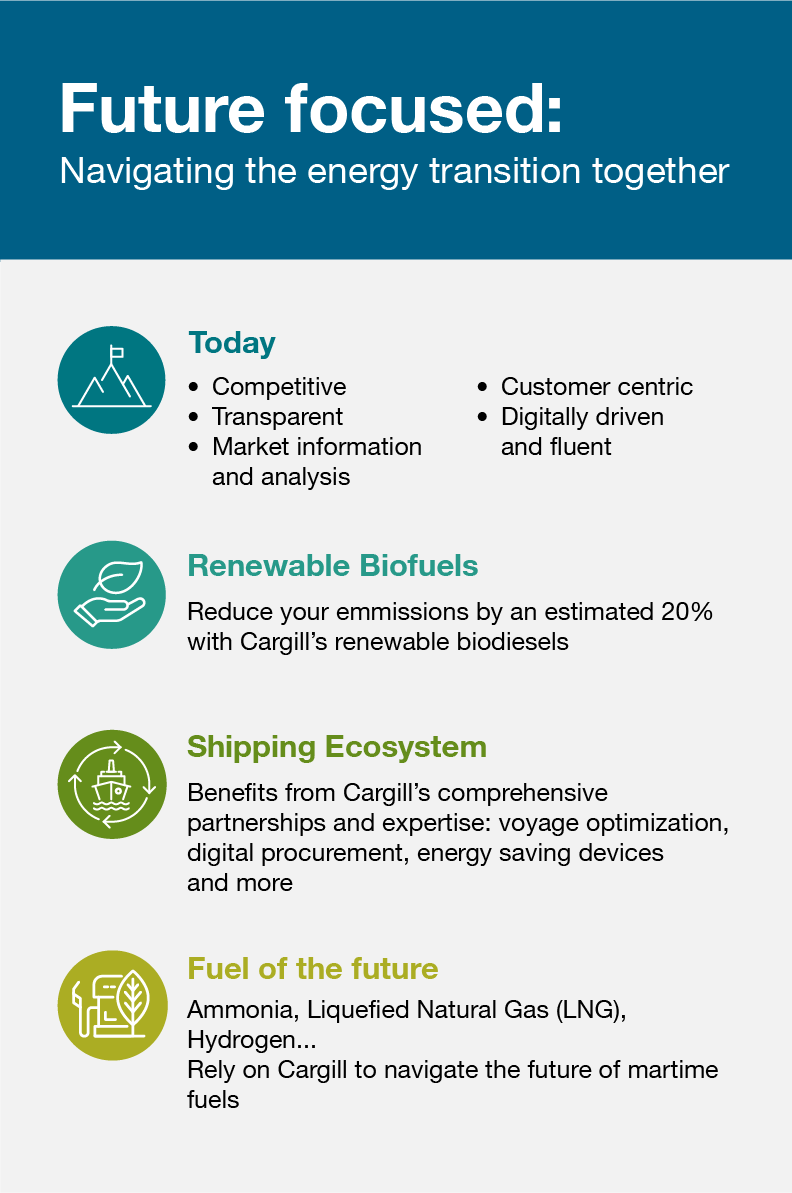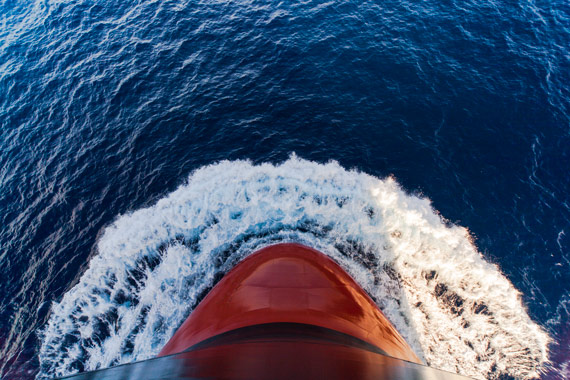 Why us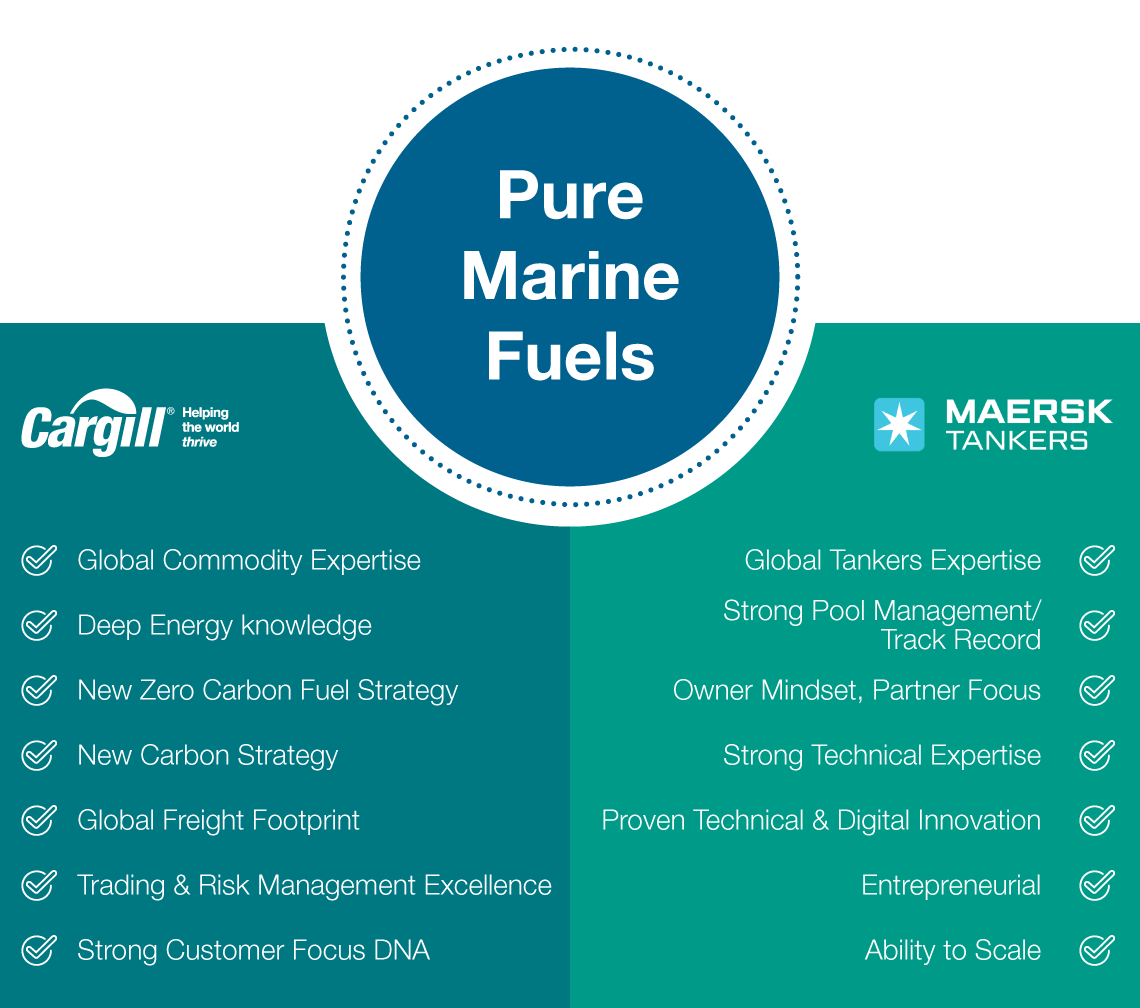 Cargill and Maersk Tankers combine operational excellence in the maritime business with deep expertise in trading and risk management across freight, energy and agricultural markets. With more than 9'000 stem liftings, approximately 4mio metric tons of bunkers purchased annually, and 300 million tons of products transported per year, we put our extensive scale and expertise at your service. That is why we have the experience and knowledge to manage your entire bunker procurement, from price to claim support, with a competitive, simple and reliable solution.
Cargill operates around 650 vessels at any one time. As one of the largest transporters of dry and bulk cargo, we complete more than 4,500 voyages each year.
Maersk Tankers is a service company that provides commercial management solutions for shipowners in the tanker industry, operating the largest tanker fleet in the world. Our purpose is to pioneer shipping solutions for our partners and the planet. Founded in 1928, Maersk Tankers has a century of expertise in management of tankers, developing and deploying solutions that help shipowners boost the economic and environmental performance of their vessels.
Meet our team: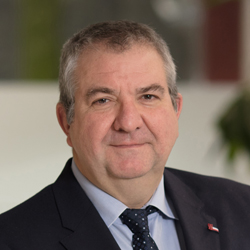 Olivier Josse
Pure Marine Fuels Lead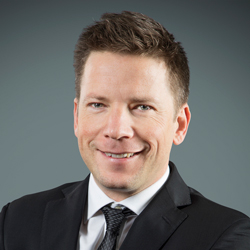 Gaetan Perret
Global Marine Fuels Procurement Lead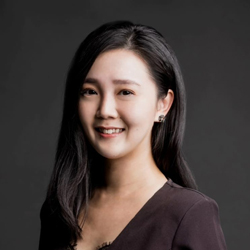 Peggy Yeo
Business Development Lead APAC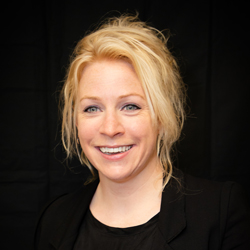 Leonie Van Der Poel
Business Development Lead Atlantic
Contact us: