We connect to build the future of food
Knowing more about a family meal
A holiday dinner at home starts with picking out wholesome dishes. This past Thanksgiving in the U.S., families were offered a new way to learn about how their food was produced, thanks to blockchain technology. In select markets, they could trace their fresh Honeysuckle White® turkey back to the family farmer who raised it.
Underpinning the pilot was a secure blockchain solution from Cargill that tracked and recorded supply chain data to help consumers learn about the turkey they purchased.
After entering an on-package code via text or at Honeysucklewhite.com, they could view photos of the family-owned farm and read a message from the farmer who raised their bird. This farm-to-table connection is building consumers' confidence about where their food comes from, while giving farmers an opportunity to share their story.
Farmer Darrell Glaser said, "Everyone deserves to know more about the food they're eating, and I like feeling more connected to the people I'm raising these turkeys for. It's important for me that consumers understand the care my family puts in every day to provide quality turkeys for families across the country."
With an enthusiastic response from consumers, support from farmers and strong interest from retail partners, Cargill plans to expand the program this coming year. Meanwhile, insights from the project will spur more blockchain solutions from Cargill, in order to increase traceability and trust from one end of agricultural supply chains to the other.

Technology with a purpose
Startups are seeking breakthroughs to revolutionize how we make food. This year, we joined with several to combine our expertise and bring new ideas to scale.
Machine learning from satellite imagery
Descartes Labs specializes in machine learning and refining large data sets from sources like satellite imagery. Our partnership with the company helps us analyze huge quantities of data to better forecast crop production both globally and locally. We take the resulting insights to our farmer customers so they can make planting and crop marketing decisions with greater confidence.
Facial recognition for animals
Cainthus is an Irish firm specializing in facial and movement recognition, with an artificial intelligence platform that identifies individual dairy cows and then employs algorithms to predict health, well-being and performance based on an animal's behavior. We invested to bring the Cainthus platform to the farmers who raise tens of millions of dairy cows worldwide to help them optimize their operations and earn more per animal. We are currently looking to expand the platform to other species.
Cultured meat
Some ventures are aimed further out on the horizon. Memphis Meats is a California-based company seeking to commercialize cultured meat grown directly in a lab. This year, we were an early investor in Memphis Meats to spur new types of alternative proteins. This doesn't mean we are moving away from traditional meat. Instead, with global protein demand rising quickly, it's a nod to the fact that we will need all types of solutions tomorrow.
Boosting startups
More answers are waiting to be discovered. To expand innovation within food and agriculture, we joined with Techstars, a top global technology accelerator, and Ecolab, a global leader in water, hygiene and energy technologies and services. Our Farm to Fork Accelerator will work with promising startups to share expertise and other resources, including a 13-week program to support the development of new products and business models that will culminate in a showcase for investors.
Making room for our bees
On farms across Germany, Cargill is investing resources in biodiversity projects that bring together plants and pollinators. We link up with farmers who choose to set aside a portion of their land for wildflowers, fruit trees and refuge areas for wild animals. The strips of land attract bees that pollinate crops and improve yields. Our employee volunteers help coordinate the effort and join in the planting and care. Project partner Braunschweiger Landvolk, a German agricultural association, shares best practices among its farmer members. For all of the participants, it's a way to balance the need for productive farmland with environmental stewardship and public trust.
Powering growth for customers in Asia
Food and feed companies based in Asia need a partner that can provide high-quality products and supply chain expertise in order to meet consumers' fast-rising demand for animal protein. We deliver soybeans, corn and other feed ingredients from farmers around the world into the region to help local companies achieve their ambitions.
New Hope Group is one of China's largest animal feed makers, looking to grow both domestically and abroad. We have joined with the company to open a soybean crush complex that serves rapid growth in North China, and are partnering strategically to help New Hope meet its goals around the country. As New Hope expands to countries like Indonesia, the Philippines and Vietnam, and looks farther afield to Africa, it also is turning to Cargill to keep connected to reliable supply chains and more deeply understand these new locales.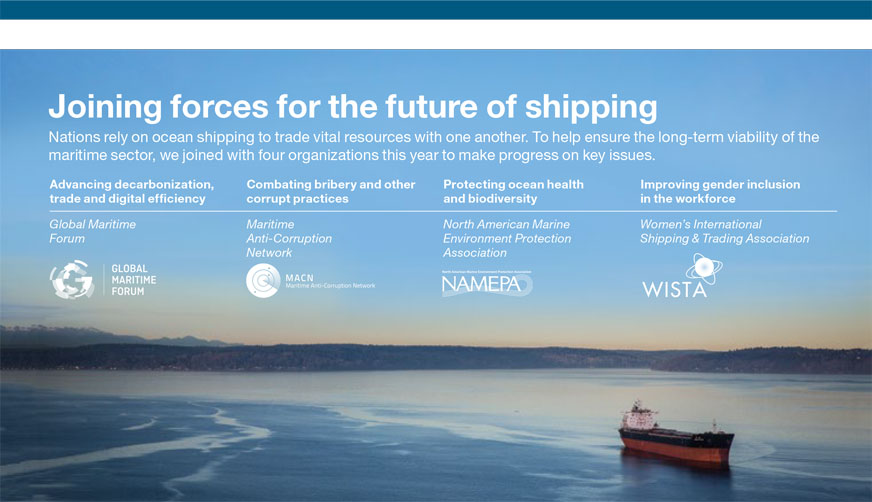 See more from our 2018 annual report