We create the connections the world needs for vibrant food and agriculture both today and tomorrow.
Available languages: Español | Français | Português | 中文

Cargill achieved $3.2 billion in adjusted operating earnings this year, one of our best financial performances. Our strong results over the past two years are due to our teams' diligent efforts to redefine how we do our daily work. Cargill operates today with greater agility and stronger integration to serve our customers' rapidly changing needs. At the center of everything we do is our purpose: to nourish the world in a safe, responsible and sustainable way.
In the midst of significant uncertainty in the world, we are strengthening the connections that enable progress. Cargill has always moved food from where it is produced to where it is needed. Today, we are pioneering new capabilities and partnerships to invest for the future. We are working with farmers and others to implement sustainable agricultural practices, innovating alongside customers to develop healthy, delicious products made the way consumers want, and standing up for responsible global trade that lets food move freely.
First: Safety in all that we do
The safety of our people is our deepest commitment. This year, we introduced new leading metrics that define safety as the presence of defenses, not the absence of incidents. We are putting safeguards in place that isolate and ultimately eliminate hazards, helping us to continue reducing total injuries across the company including the most serious ones. Still, we suffered three fatalities, an unacceptable outcome. As we build safer systems, we have enlisted everyone across Cargill to see and stop unsafe conditions. We know we can achieve our goal to send everyone home safe each day.
Financial performance
At $3.2 billion, adjusted operating earnings were up 6 percent from last year's strong performance, with gains in three of four business segments. Net earnings on a U.S. GAAP basis increased 9 percent to $3.1 billion. Both the adjusted and net figures included a provisional net charge of $86 million related to the new U.S. tax law enacted in December 2017. Revenues rose 5 percent to $114.7 billion. Cash flow from operations reached $5.22 billion, of which $3.68 billion was invested in strategic acquisitions, joint ventures, and new and existing facilities.
Our business

Segment results
Animal Nutrition & Protein surpassed last year's strong performance, making the segment the largest contributor to Cargill's adjusted operating earnings. Our protein business delivered exceptional results, fueled by rising domestic and export demand for North American beef and steady expansion in value-added egg products. We also realized considerable growth in feed additives, micronutrients and premixes for customized animal nutrition. Earnings from aqua feeds were flat, while compound feeds were up slightly. Excess supplies of chicken relative to demand in Thailand contributed to a moderate decrease in global poultry results.
We invested significantly to serve the growing global appetite for protein. In poultry, we acquired Pollos El Bucanero in Colombia; formed U.K.-based Avara Foods, a fresh poultry joint venture; and opened a major processing plant in the Philippines with Jollibee Foods. In the U.S., we expanded facilities for cooked meat and eggs.
In animal nutrition, we acquired U.S.-based Diamond V and invested in Austria-based Delacon; they are the respective leaders in improving animal health through fermentation- and plant-based feed additives. We purchased Integral Animal Nutrition, a Brazilian producer of cattle mineral feeds. In the U.S., we bought Pro-Pet, a private-label pet food maker, and the animal feed business of Southern States Cooperative. Technical application centers supporting aqua nutrition were opened in India and Vietnam. We also invested in Dublin-based Cainthus, an animal facial recognition startup, and broadened our farm management software offerings; both will give farmers a digital boost to their productivity and profitability.
Achievements this year
Delivered $3.2 billion in adjusted operating earnings, one of the company's best performances, with three of four segments reporting year-on-year gains
Invested 71 percent of our $5.22 billion cash flow from operations in acquisitions, joint ventures and facilities that expand our global team and capabilities to serve customers
Advocated with policymakers and other leaders for open, responsible trade that allows food to move, benefiting farmers, workers and consumers
Provided training to more than 475,000 farmers on agricultural practices that raise productivity and promote sustainability
Pledged to reduce greenhouse gas emissions in our operations by 10 percent by 2025, in line with the U.N. Sustainable Development Goals and the Paris Agreement
Advanced sustainable solutions for customers, including pioneering work in poultry feed in Europe and beef in Canada that earned us a McDonald's Scale for Good award for suppliers
Earnings rose in Food Ingredients & Applications, lifted by outstanding performance in cocoa and chocolate, and gains in Asia-based ingredients and global edible oils; results across starches and sweeteners were steady. Salt earnings decreased for the year, as volume growth in food and water softening was more than offset by lower sales prices for road salt and higher freight costs.
We introduced several new ingredients, including a high oleic canola oil with the lowest-ever level of saturated fat; EverSweet™ zero-calorie sweetener; and the SimPure™ line of high-performing native starches. In Brazil, we launched Liza® Origens soy cooking oil that carries our innovative Triple S (Sustainably Sourced & Supplied) certification. We increased our ownership in an Argentina-based starches and sweeteners joint venture and formed a new joint venture with Minneapolis-based Puris to serve growing demand for plant-based proteins.
Origination & Processing pulled ahead thanks to a strong fourth quarter. For most of the year, rising demand for grains and oilseeds was muted by big crops, building stocks and low market volatility. Toward year-end, this changed, as drought in Argentina and other market forces began to influence global flows of corn, soybeans and related products. With markets moving and prices coming off lows, the segment improved origination, processing and trading results in key geographies.
Through investments in technology, we are better connecting our global operations, honing our competitive edge in trading and analytics, and bringing greater insight to customers. We modernized several oilseed processing plants in Brazil and the U.S., and broke ground on a biodiesel facility in Kansas. Early in fiscal 2019, we formed a joint venture to meet increasing demand for soybean meal and oil in Egypt.
Industrial & Financial Services completed its reorganization by selling energy and steel processing, and adding our existing risk management and trade finance activities to the segment. Metals profitably captured market volatility through superior use of data and analytics. In total, segment earnings slightly lagged the prior year due to lower returns from fund investments and the wind down of discontinued activities.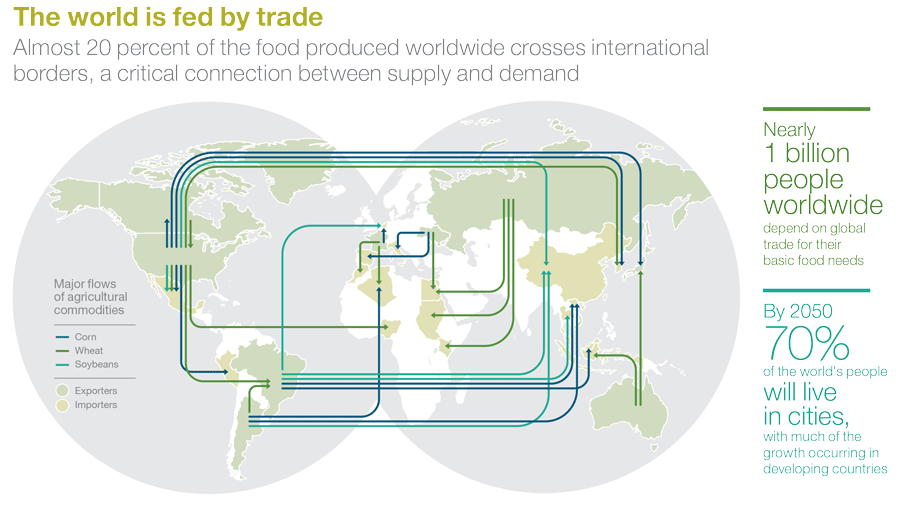 Trade flows depicted are representative of key global food flows and are not inclusive of all flows from origination to destination markets.
Sources: UN FAO, USDA, ScienceDirect, Chatham House, Cargill internal data

Working as one Cargill
Our global presence in agricultural supply chains, deep understanding of markets and vantage points across sectors empower us to provide unique offerings to our customers. Our businesses and global functions operate in an integrated way, allowing each business to provide top products and services in its sector while drawing on the broad capabilities and insights of the entire company.
These capabilities benefit our customers and also work to solve collective challenges in food and agriculture. For example, we are employing digital strategies to generate data-driven insights that help customers succeed. This year, our animal nutrition business launched the iQShrimp™ predictive software platform that captures various streams of data and uses machine learning to give shrimp farmers insights that help them produce healthier, larger shrimp with fewer resources. We are currently expanding this platform to other species.
We also uncover consumer trends that inform our joint product development with our customers. In the U.S., for example, our protein business joins guests at Target stores as they shop for groceries to learn what types of meat products they like. This enables us to design restaurant-quality meals that consumers want to cook at home, and led Target to honor us as its Grocery Vendor of the Year.
We are harnessing our global expertise to make agriculture more sustainable. This year, we established a corporate sustainability hub to support our businesses as they advance our focus areas of land use, water resources, climate change, farmer prosperity and food waste. We added this fifth focus area knowing that we can make large gains in the efficiency and resource intensity of global agriculture by reducing food loss and waste after harvest, in transit and at the consumer level.
Collaboration for progress
At Cargill, we are optimistic that through partnerships across our sectors, we can collectively nourish the world while protecting the planet. As a result, we increasingly set our course and measure our progress against the U.N. Sustainable Development Goals. We support the U.N. Global Compact's Ten Principles on human rights, labor, the environment and anti-corruption, and we are working to implement these principles as part of our strategy, culture and day-to-day operations.
Our actions reflect this commitment. To help mitigate climate change, we pledged to reduce greenhouse gas emissions from our operations by 10 percent from 2017 to 2025. We worked with The Nature Conservancy to develop a comprehensive plan to reach this goal. To ensure high labor standards, human rights and ethical practices in our supply chains, we implemented a global Supplier Code of Conduct. It is closely aligned with our long-established Employee Code of Conduct and Guiding Principles, which help ensure our people do the right thing no matter the circumstances.
We know that no one organization has all of the solutions to meet global challenges. This year, we expanded our alliance with Gastromotiva, a chef-led nonprofit based in Brazil that seeks to use food to improve social equality and employment opportunities while reducing food waste. We reaffirmed our partnerships with The Nature Conservancy, World Wildlife Fund and World Resources Institute. And we celebrated a decade of impact with CARE that has improved farmer livelihoods, food and nutrition security, and community resilience in 10 countries.
Responsible trade is an essential part of sustainably nourishing the world. When food moves freely, billions of people benefit from greater affordability and wider choice in their diets. This year, we defended the global rules-based trading system and institutions like the World Trade Organization that make sure nations can resolve disputes and keep borders open. We advocated with policymakers to build upon existing trade agreements like those between the U.S., Mexico, Canada, China and South Korea, rather than walk away from the negotiating table. To show how farmers, workers and consumers are better off thanks to global trade, we launched the advocacy website fedbytrade.com.
In closing
We take pride in what Cargill has accomplished for all of our stakeholders this year. We work with a strong sense of purpose, one that builds toward sustainable, long-term growth while doing more every day for those who depend on us.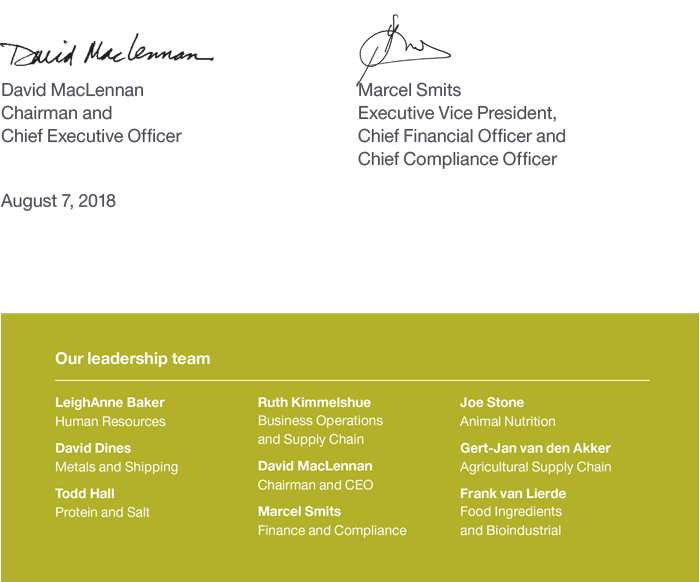 See more from our 2018 annual report