We grow alongside our partners to help them thrive
Empowering farmers to do more
We work with growers at all levels of production to share sustainable agricultural practices, raise their yields and livelihoods, and improve their market access. Our programs are tailored to local conditions to help farmers adapt and prosper, even as they strengthen agricultural supply chains and communities in an economically and environmentally sustainable way.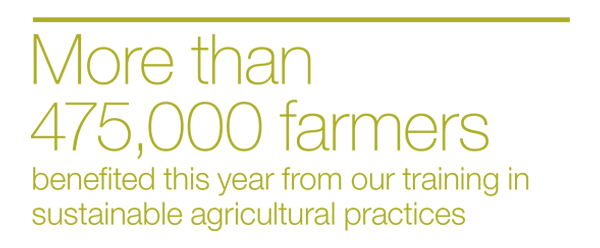 In Nicaragua, we have partnered for three years with international development nonprofit TechnoServe on the Impulsor program, which has helped revitalize the local sorghum industry. Low productivity and high costs had limited production of sorghum, an important raw material for animal feed in the country. Impulsor has engaged more than 400 farmers operating at both large and small scales with agronomic training, and also connected them with a tropicalized hybrid seed developed by a local technical institute that costs half as much as conventional seeds.
Small producers have seen profitability go up more than 100 percent, and large producers have seen profits rise 50 percent. In 2017, more than half the small farmers in the program were women. As all of these farmers have increased production, Cargill has been a ready buyer of their crops to support our local animal feed business.

Similar programs are achieving significant results in many countries:
In Chile, our work with a local scientific institute is connecting farmers from the indigenous Mapuche community with a profitable rotation crop, lupine. Protein from this plant is substituted for fish meal in salmon feed, taking pressure off of marine ecosystems.
The Philippines and Indonesia are the world's two largest producers of coconuts. Along with partners BASF, Procter & Gamble, and the Deutsche Gesellschaft für Internationale Zusammenarbeit (GIZ) GmbH, we are providing training in sustainable agricultural practices to enable coconut farmers to gain Rainforest Alliance certification for their products. The goal is to increase farmers' incomes and economic self-sufficiency by boosting their farms' productivity.
In Mexico's Yucatán state, small corn farmers like Rafael Chan Martin, pictured above, have seen their yields increase 45 percent while their costs have dropped 30 percent, thanks to Educampo Mayab, a Cargill program begun in 2013. We are working to expand this program to other parts of the country.

Specially sourced cocoa
For Swiss chocolatier Lindt & Sprüngli, sustainably sourced ingredients are a prerequisite for its premium brand philosophy. In the midst of rapid growth, the company is committed to giving consumers the ultimate chocolate experience, one that takes responsibility for people and the planet. During the past two years, Cargill and Lindt & Sprüngli have collaborated to build a tailored sourcing program that provides Lindt & Sprüngli with assurance that our cocoa butter meets high standards for quality, responsibility and sustainability all the way back to the farmer.
Our sourcing program with Lindt & Sprüngli is supported by the strong foundation of the Cargill Cocoa Promise, which is steadily improving the long-term viability of the cocoa sector through more sustainable agricultural practices and stronger livelihoods and communities for cocoa farmers and their families. Combined with our supply chain expertise, this work will help Lindt & Sprüngli meet its needs as it continues to grow globally in the years to come.
Expanding sustainable beef
Telling people that the foods they enjoy were made sustainably means verifying practices at every step of a supply chain. A growing sustainability pilot in Canada led by Cargill is plugging our customers into unprecedented information on how cattle are raised and processed. This includes using for the first time the criteria developed by the Canadian Roundtable for Sustainable Beef.
Customers are receiving increasing amounts of beef from a fully certified supply chain, while cattle producers are earning financial incentives for participating. Recognizing how this is building a supply of sustainable beef in Canada, McDonald's gave us its 2018 Scale for Good award.
Growing action in climate change
We see ourselves as a growth company. But even as Cargill gets bigger, we will reduce our impact on the environment. By 2025, we will cut absolute greenhouse gas emissions from our operations by 10 percent, compared to 2017 levels. This is a science-based target in line with the Paris Agreement and the U.N. Sustainable Development Goals.
To reach this target, we worked with The Nature Conservancy to identify a broad range of actions adapted to the local markets and supply chains where our businesses operate. For example, we are increasing our use of renewable energy through investments like the solar power system we installed this year at our cocoa processing facility in Tema, Ghana. Along with other upgrades, this has enabled us to reduce CO2 emissions at Tema by more than 70 percent.
Sharing food safety knowledge
Indonesia's 260 million people reside on more than 13,000 islands, presenting an expansive challenge to the nation's cohort of food safety inspectors. The country's food and agriculture agency turned to Cargill to help its inspectors increase their knowledge so that consumers receive safe food every time, everywhere. We convened partners and organized a training program with a coalition of local universities that provided low-cost courses to government auditors and smaller food businesses. This has helped disseminate practices that meet a high standard across Indonesia.
We also bring countries together to collaborate and harmonize standards and practices. For 10 years, Cargill has worked with China's food safety agency, bringing practitioners to the U.S., Canada and Europe to exchange knowledge. This year, we convened regulators from China, Argentina and Brazil.
"We knew everyone would learn from each other, and it exceeded our expectations," said Shi Baoxiang, head of the Chinese delegation. "From our perspective, we now have a deeper understanding about regulations in grain production in Brazil and Argentina. Everyone benefits."
Protecting people every day
Keeping our employees and contractors safe is our most important commitment. We have developed new metrics that allow us to peer more deeply into complex safety risks and find ways to proactively guard against them. Currently, nearly 500 Cargill employees have been trained to conduct formal risk assessments that examine and improve the safety of our highest-risk activities in order to prevent serious injuries and fatalities.
Stronger controls also are defending everyone on our team. These controls come in many forms: installing a walkway that separates pedestrians from vehicles; relocating an oft-used valve to a lower height to protect from falls; switching to less caustic chemicals that still do the job. They also include swapping motorbikes for much safer compact cars for more than 7,000 employees who drive on the job. Thanks to these combined efforts, we are a safer company today than ever before.
Navigating risk in metals
China imports about 1 billion tons of iron ore each year, using it to produce 50 percent of the world's steel. The Chinese steel market is highly volatile; pricing can shift in unpredictable ways as market fundamentals are influenced by changes in policy and trade. This fast-moving, quickly maturing environment has local steel mills searching for ways to manage risk and hedge against future price swings.
Cargill provides these steel mill customers with creative commercial solutions and customized risk management. As the only international trading house with a material onshore presence in physical steel trading, we combine a global perspective with a talented team of traders and analysts who have expertise in local commodities markets.
"Cargill is the benchmark for the industry, especially in its way of thinking," said Zhang Zhigang, vice president of The Hunan Valin Iron & Steel Group. "Cargill sees the supply chain from beginning to end. Other traders are mainly interested in selling you things, but Cargill thinks with you."
See more from our 2018 annual report