We nourish the world with a holistic approach
Advancing the frontiers of animal health
Healthier animals use nutrients more efficiently, impact the environment less and carry fewer pathogens that can cause illness in humans. These animals also live better, which makes consumers happy. Today, Cargill is investing at the intersection of animal health and wellness, and food safety, so animals can perform to their potential and produce more protein for the world in a sustainable way.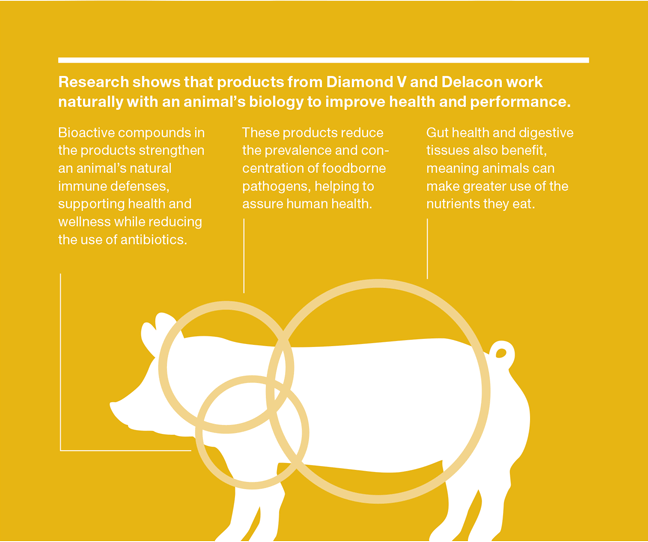 This year, we invested in a strategic partnership with Delacon, the global leader in phytogenics, or plant-based feed additives. Delacon's scientists have searched the globe for naturally occurring compounds that have measurable effects on animals' gut health. These come from ordinary items in your pantry like garlic, peppers and thyme, as well as more far-flung sources like the rare quillaja tree native only to Chile. Validated by rigorous scientific trials, these extracts help animals convert more of the feed they eat into protein. They also can reduce emissions like methane from cows by up to 20 percent and ammonia from chickens and pigs by up to 50 percent, protecting the environment. And by helping to keep animals healthier, they lower the use of antibiotics.
Cargill also acquired Diamond V, adding its market-leading immune support technology and expertise to our comprehensive animal nutrition and health portfolio. Diamond V's products derive from proprietary processes using microbial fermentation. They work naturally with the animal's biology to support immune function, optimize performance and promote food safety. By strengthening the immune system, these products enhance the animal's first line of defense against all types of health challenges. And research shows that animals consuming certain Diamond V products pose less risk of passing on pathogens like salmonella or E. coli, helping to keep humans safer.
Together, Delacon, Diamond V and Cargill will look to answer even bigger questions. Can antioxidants affect gene expression to help reduce animal stress? Can immune support products help preserve the power of antibiotics in protecting public health? And what other health benefits could these products provide to individual people? Uniting our expertise promises to unlock new opportunities for tomorrow.
Plant proteins of the future, today
Many consumers want more plant-based protein. Puris and its family founders have crafted a clean-tasting pea protein that offers a non-GMO, Certified Organic, allergen-friendly option for a new wave of protein-packed foods and beverages. This year, we invested in Puris to accelerate its reach across a broader market. Our collaboration is one more piece in solving the protein puzzle for a growing world.
Cutting food waste
This year, our teams in 30 countries led events connected to World Food Day. Of these, 125 events in 16 countries were part of Cargill Project 1/3, which sought to raise awareness of the fact that one-third of food worldwide is lost or wasted. To support this program in Nicaragua, we joined with World Central Kitchen to host a community event that served up nutritious meals and food know-how. World Central Kitchen's international chefs worked side by side with cooks from schools supported by Cargill, teaching attendees how to get the most out of their vegetable gardens, use all parts of the chicken and safely handle all ingredients.
Access to healthy options
Many communities in the U.S. have limited access to nutritious food. To help solve this problem in our hometown of Minneapolis, The Cargill Foundation, along with other public and private organizations, supported the launch of the North Market. Local residents now have expanded access to an array of fresh groceries, health and wellness resources, and gathering spaces. Since opening in late 2017, the North Market has empowered families, seniors and others in the neighborhood with a new model for health and nutrition.
Nourishing education
In Indonesia, we are working with the U.N. World Food Programme, education departments and local nonprofits to drive gains in community health and nutrition. Nearly 100,000 students have received additional school meals and education about healthy diets since 2016. Academic performance is up, while days missed due to illness have been cut in half. In Cargill's own cafeterias, WFP's nutrition expertise is helping employees make healthier food choices. Meanwhile, the meal programs are providing local farmers with a new market for their production.
Chef collaborations
Consumers are always looking to try a new flavor or style of cuisine. The team of chefs in our protein business works side by side with our foodservice customers to continuously develop new products that diners are saying they want.
Our Sterling Silver® brand of premium beef is served by thousands of independent owner-operator chefs in their restaurants across the U.S. and Canada. Twelve Sterling Silver Signature Chefs join our own culinary team in the kitchen to experiment and create dishes that give consumers a new twist on favorite cuts of meat, like our sliced short rib that lends itself well to small plate applications. We take these fresh offerings and build a library of recipes and drink pairings that restauranteurs can use to deliver an exciting dining experience and fill tables night after night.
"Bringing us together to share inspirations shows that Sterling Silver and Cargill are dedicated to innovation and, even more, to our success," said Signature Chef Nick Unangst from South Carolina's SERG Restaurant Group.
Reaching a new low
Everyone is looking for balance in their diet. Now, consumers will have healthier options for some favorite foods. Twenty-five years after we upended the market by removing trans fats from canola oil, we have created a new high oleic canola oil with the lowest-ever level of saturated fat for our foodservice customers. This latest generation of Clear Valley® specialty oil cuts saturated fat by 35 percent and performs just the way our customers need with regard to taste, stability and fry life.
It took steady persistence across 10 years of research and development to achieve this breakthrough. Sifting through the 90,000 genes in the canola plant, our teams cross-bred, grew and tested more than 150 types of hybrid canola. Regular feedback from farmers aided our researchers as they developed seeds that deliver robust yields and disease resistance while also producing a healthier oil.
Canadian grower Ron Lamb appreciates the potential: "I see it as a sustainable asset on our farm. It's an opportunity to help create a healthier oil, and I believe healthy is the future."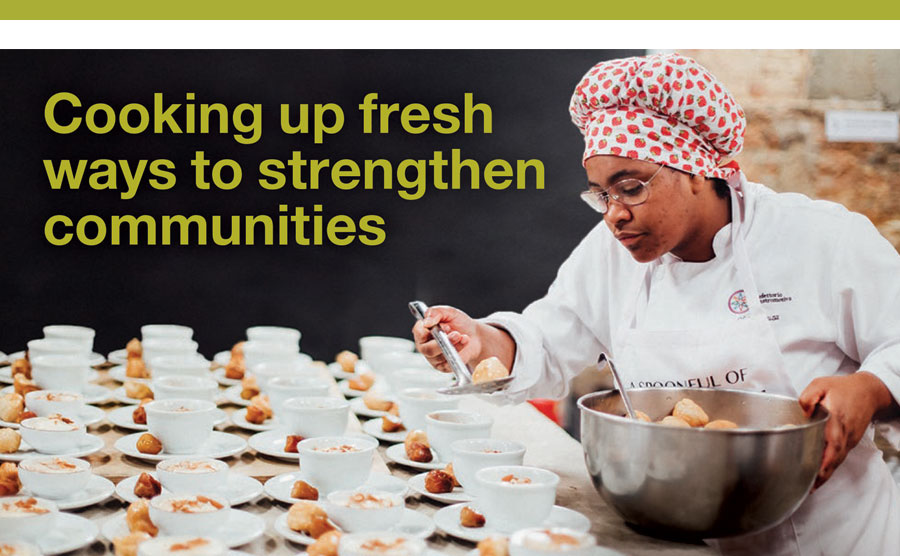 Social change in the kitchen
What if cooking could unlock economic opportunity and dignity for others while also making fuller use of food? This is the goal of the Social Gastronomy Movement, a chef-led initiative to address issues like nutrition, food waste and social inequality. As a leader in this movement, Brazil-based Gastromotiva operates its community kitchens as both schools and restaurants. Young people, many from the margins of society, get free culinary training and prepare delicious, healthy meals made from surplus food that would otherwise go to waste. These meals are served to people in need, in a space that encourages dialogue and companionship.
Cargill has supported Gastromotiva in Brazil since 2014 through funding and employee volunteers, helping it reach more than 100,000 people. Now, a three-year, $1.5 million grant from Cargill will help bring global scale to the Social Gastronomy Movement. Cargill is contributing our expertise on supply chains and relationships across the food system, as well as a shared passion to employ food for good.
"Fighting hunger and poverty is everyone's job," said Chef David Hertz, Gastromotiva's founder. "We are joining forces to make something much bigger than ourselves – to accelerate a movement."
See more from our 2018 annual report