Supplier Invoicing & Payment - EMEA
On this page, you will find information on Cargill's billing process for Europe, the Middle East and Africa.
NOTE: The information on this webpage is not intended to provide guidance on legal or tax requirements. Understanding and complying with legal and tax requirements remains the sole responsibility of suppliers. We also have not provided an exhaustive list of requirements for transacting with Cargill. There may be other requirements specific to your transaction.
Purchase Order Confirmation
Receive a Purchase Order
After placing an order with Cargill, you will receive an official PO. Without our official PO, you should not proceed with providing Goods/Services to Cargill. In an emergency situation, if Cargill makes an urgent request to place an order without a PO, Cargill follow up with a PO as soon as possible.
It is important that you review the last page of each PO, where you will find special instructions and information on where to submit your invoices to Cargill.
Confirm a Purchase Order
When receiving a Purchase Order, you should:

1. Validate all details before providing actual Goods/Services:
Purchase Order Reference Number
Bill-to / Sold to address (legal Entity) and VAT Number
Ship to location
Invoice Send to (postal) Address
2. Validate the terms of the PO:
Product/Item
Quantity
Delivery date
Delivery address
Price and Currency
Payment and Delivery Terms
3. Send a Purchase Order Confirmation for every Purchase Order to the e-mail address stated in EMEA Standard Terms and Conditions on the last page of each PO.
Confirmation should be sent within 1 business day upon receipt of the Purchase order.
In case of a product delivery, send the product to the specified on the PO ship-to location
When providing goods or services to Cargill, always ensure you provide documentation — other than your invoice to Cargill — such as delivery note, packing list etc. This documentation should be approved by Cargill, reference our PO number and must be sent to the location as specified on our PO. Only when you have provided this evidence, should you then submit your invoice to our processing centre.
It is critical, that on all correspondence, including your Invoice, that you quote our PO number. Failure to do so could result in the invoice being returned to you.
Standard PO Terms & Conditions, Cargill EMEA:
Use our purchase order terms and related materials for the Cargill entity/country you are working with.
Invoicing & Payment
Submit an Invoice
Cargill can accept invoices through either e-mail or post mail. It is important that ONLY ONE submission method is used to send an invoice. If you don't submit your invoices to the right place with the right information, your invoice may be rejected or require manual review, which can significantly delay payment.
In order to identify how to submit your invoice pay close attention to the last page of our official Purchase Order. You will find billing details and email address to send your pdf invoice. If you are not able to issue a pdf invoice, you may send a paper invoice via post mail to our office in Sofia.
Submit PDF invoices via email
Invoices can be submitted as a PDF to the email address shown on the last page of our official Purchase Order
Example:
Invoices must be submitted in PDF file format
Multiple invoices can be attached per email, but each invoice must be in a single PDF file
Emails must be 9MB or less
Password protected invoices cannot be accepted and will be rejected by our system
Invoices should be submitted to the appropriate country email address
PDF invoices sent to e-mail addresses of individual contacts at Cargill will not be accepted.
Hand written invoices or written notes cannot be processed and will be rejected due to optical character recognition.
We would like to stress that if you issue a PDF invoice, you should not also issue a paper invoice for the same supply.
Submit paper invoice via post mail
If you are not able to issue your invoice by PDF, you can send a paper invoice directly to our procurement office in Sofia. Invoices sent to local entities will not be processed (if anything else is advised by your Cargill contact). Check the last page of our official Purchase Order for the mailing address of our office in Sofia.
Example
Paper invoices should be sent to the postal address below:
71 Kableshkov Str.
Cargill Tower, 1 floor
1404 SOFIA, Bulgaria
ATT Scan Admin:
PO Box
Mobile: +359.889.043.308
The PO Box number depends on the country, as listed below:
| | |
| --- | --- |
| Country | PO Box |
| UK | 11 |
| DK | 22 |
| FR | 33 |
| ES | 44 |
| PT | 44 |
| DE | 55 |
| AT | 55 |
| BE | 66 |
| PL | 77 |
| NL | 88 |
| LU | 88 |
| IT | 90 |
| CH | 99 |
Your invoice envelope should be addressed to the PO Box address listed above, but your invoice should include the full legal address of your Cargill counterparty (Bill to details shown on the PO).
If you are uncertain about if or where you should be submitting an invoice to Cargill, please verify instructions with your Cargill contact. The information on Supplier Central is meant as general guidance, and you should follow any specific instructions you receive.
Invoice Content Requirements
To ensure prompt and accurate payment, please review the following instructions. Details required on all invoices:
Cargill PO number. Any invoice without a PO number will result in rejection
ATT: Scanning Centre (you can find the reference on the last page of Cargill's PO)
Supplier name and payment address
Supplier invoice number
Date
Quantity of items
Unit of measure
Price
Final net amount due
Payment terms
Tax, if applicable
VAT requirements, if applicable
Country Requirements
Austria | Belgium | Denmark | Finland | France | Germany | Hungary | Ireland | Italy | Netherlands | Poland | Portugal | Romania | Slovakia | Slovenia | Spain | Sweden | Switzerland | United Kingdom
Have a payment issue? Contact our Supplier Relations team
You can find a contact email address and toll free numbers on the last page of our official Purchase Order: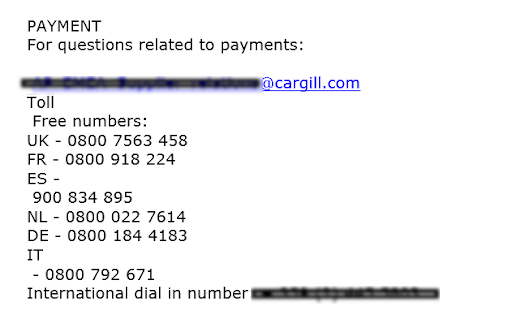 Supplier Relations manages all concerns related to the following:
Supplier statements
Requests for invoice status updates
Requests for Proofs of payment
Supplier information updates
Issues with overdue invoices
Issues with past due payment
Requests for or questions about remittance notices
General inquiries
In case of questions, please contact your representative from Cargill Strategic Sourcing & Procurement for more information.
Supplier code of conduct
Our commitment to helping the world thrive: Cargill's purpose is to nourish the world in a safe, responsible, and sustainable way. We understand that supply chains that support the global food system must be sustainable—balancing the needs of today with the needs of future generations. We can achieve our purpose only by working closely with our Supplier Partners. Our Supplier Code of Conduct explains how we expect farmers, producers, manufacturers, and others to work with us to fulfill that purpose—ethically and in compliance with applicable laws.
Our Guiding Principles
Cargill's seven Guiding Principles apply to all of our employees; they provide the foundation for our operations globally. Our Supplier Code of Conduct enlists our Supplier Partners in upholding these same principles. We believe this joint commitment to ethical conduct and integrity is a strong foundation for trusted business relationships that create shared value.
FAQ
1. Who can I contact to check payment status of the invoice?
You can find contact details of the Cargill Supplier Relations team on the last page of the Purchase Order received from Cargill
2. I don't know which Cargill entity I am billing.
Please refer to our Purchase Order. There are "Bill to" details on the first page.
Tip: Make sure you do not confuse "Bill to" with "Ship to" details. They might be different.
3. How can I change my vendor details (address, bank details, etc.)?
Supplier Relations team. Please find their contact details on the last page of the Purchase Order received from Cargill. Please send an email as per the required information:
General Inquiries including statements and issues related to outstanding invoices
Vendor name:
Vendor number:
Type of request:
Ship to address/Cargill entity name:
Invoice number:
Invoice date:
Invoice amount:
Invoice payment date:
Purchase order number:
Remittance advice
Vendor name:
Vendor number:
Received amount:
Date of payment:
Copy of an old already paid invoice:
Old remittance advice:
Bank text of the received amount:
Bank details change
Vendor name:
Vendor number:
An old paid invoice:
Full bank details on a company letter headed paper verified by a person from the supplier's side which is different from the sender of the request:
4. I did not receive a purchase order. Who do I need to contact?
Please contact your Cargill representative to request a Purchase Order