Can protein help fight hunger and poverty?
Cargill and Heifer International launched the Hatching Hope Global Initiative, providing resources that help poultry farmers, allowing them to make a living income and provide food for their families.

Chicken is perfect animal protein for this project. They are easy to raise and, along with the eggs they produce, are good sources of vitamins and high-quality protein.

Within three years, Hatching Hope will impact 20 million people, all while keeping animal health and well-being top of mind.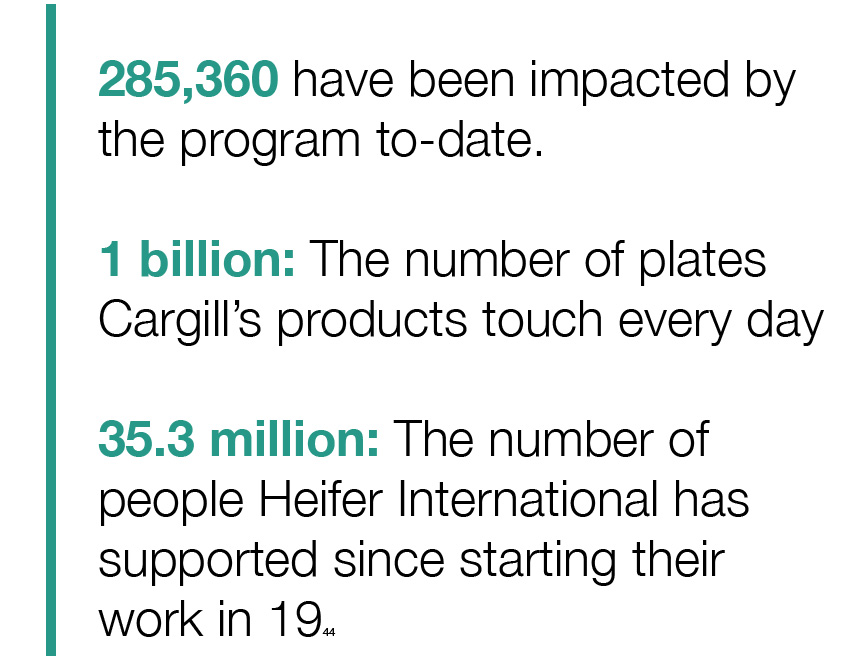 Let's face the facts. According to the United Nations (UN), the world's population is expected to increase by two billion in the next 30 years — from 7.7 billion to 9.7 billion in 2050 — with the global population predicted to top off at 11 billion around 2100.
While that number is staggering, so is the amount of people who remain malnourished. Estimates show in 2018, roughly 821 million people suffered from hunger.
What's the answer to this challenge? For some, it may be chickens and eggs.
In 2019, Cargill partnered with Heifer International to launch the Hatching Hope Global Initiative, which provides farmers with greater access to resources and knowledge to sustain smallholder poultry production, enabling them to provide food for their families and make a living income. The impact goes beyond individuals – Hatching Hope provides nutritional information to entire communities, supporting a healthy population and fostering widespread economic resilience.
Hatching Hope promises to raise awareness of the value of poultry to address malnutrition challenges experienced around the world, all while empowering smallholder farmers – most of them women.
"Animal protein is essential for a healthy and balanced diet," said Chuck Warta, president of Cargill's global health technologies business and program sponsor. "Cargill's expertise and innovation paired with Heifer International's community development programs demonstrate how animal agriculture can produce protein that improves health and boosts local economies while remaining environmentally sustainable."
Why poultry?
Chicken provides essential B vitamins that benefit overall health, and provides low-fat, high-quality protein. In addition, eggs are a source of high-quality protein and contain choline for brain development.
Aside from nutrition, raising chickens and eggs brings economic benefits.
"All members of the household can engage in raising chickens, and we're especially proud to be empowering women, youth and the elderly," Chuck added. "Also, the poultry growing cycle is relatively fast-paced, which can deliver quick and steady income opportunities for households across diverse environmental landscapes."
Where we're at, and where we're headed
Hatching Hope officially kicked off in India, Mexico and Kenya in 2019. As Cargill and Heifer deliver high-touch, hands-on programming to smallholder farmers, the impact continues through Heifer's Passing on the Gift initiative, as farmers are encouraged to share their knowledge and resources with others. In addition, nutrition education is provided to communities to improve community health and increase demand for poultry products.
How big is the impact? Hatching Hope will reach 20 million people within three years of the program's launch, all while keeping animal health and well-being top of mind.
"Cargill's purpose is to nourish the world in a safe, responsible and sustainable way," Chuck said. "It's not just what we do – it's how we do it. Agriculture, including animal protein production, must increasingly be understood as part of the solution to some of the world's most complex sustainability challenges."
Leveraging more than a decade of research on the gut microbiome, Galleon accesses Cargill's extensive research data to guide flock-management decisions.
[]/[]
A Vietnamese farmer partnered with Cargill to improve his farm – and ended up improving his family's well-being.
[]/[]