Bringing next-generation flock-management capabilities to poultry producers with new, artificial intelligence (AI) driven service.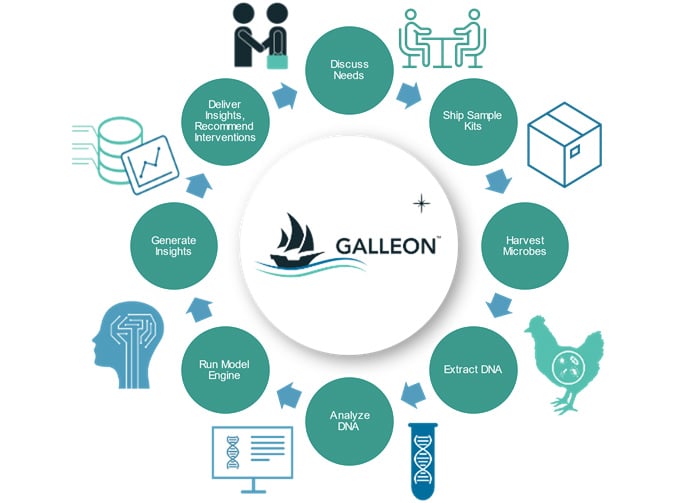 There is an interdependency between the condition of the gut microbiome and the flock's health. Therefore, understanding the gut microbiome can allow producers optimize animal health and performance.

Cargill's Galleon™ Broiler Microbiome Intelligence service enables producers to track and optimize health of their flock by using AI that leverages a vast database of microbiome data.

An animal's gut microbiome influences its health in many ways. Cargill has accumulated an industry-leading volume of microbiome data through nearly 100 trials to identify key gut health biomarkers and develop science-based insights to guide flock-management decisions.
The bacteria, viruses, and other microorganisms residing in the gut of poultry flocks and other farm animals have a tremendous impact on their wellbeing and productivity. When these organisms—known collectively as the "gut microbiome"—become imbalanced or infected with pathogens, it can create problems for producers. Until recently, it was difficult for poultry producers to effectively assess their flocks' gut microbiome and use that information to guide their decision-making.
Cargill recently introduced Galleon™ Broiler Microbiome Intelligence service that enables producers to track and optimize health of their flock by using AI that leverages a vast database of microbiome data.
"The complexity of the gut microbiome can be overwhelming, said Dr. Jean De Oliveira, Animal Science Research manager for Cargill's animal nutrition business. "Our teams at research centers around the world have conducted nearly 100 trials over 10 years. They used statistical analysis combined with artificial intelligence (AI) and machine learning to study the poultry gut microbiota, grow nutritional expertise, and guide new product and service development."
Interactive and easy to use
After discussions with Cargill experts, producers receive sample tubes, along with instructions to collect cloacal swabs from their live flocks. After samples are collected, the swabs are returned to a lab for analysis. Using the analysis results and Galleon's robust data of microbiome data, Cargill experts identify key biomarkers that help define the status of the flocks' gut microbiome. The analysis is further augmented using statistical analysis, machine learning, and AI to provide producers with a comprehensive report and recommended interventions to address issues. In addition, the results are not tied to any specific feed additive or product.
A Cargill technical expert then walks through the report with customers and provides recommendations on how to take action to support performance, health, and preharvest food safety. Galleon Broiler Microbiome Intelligence can also be used by customers for routine monitoring of their flocks and research purposes.
Galleon can help producers:
Potentially improve the flock's performance for economic benefit by means of including but not limited to switching feed and additives or improving management practices.
Understand why a flock may not be performing well.
Pinpoint reasons why different farms with the same inputs, like feed management and antibiotic regimens, have different performance results.
"The customer feedback has been very encouraging," Jean said. "A large customer in Asia reported great success in analyzing the effectiveness of feed additives on their flocks. We've conducted several successful trials with customers. Plus, we're using customer events to show how Galleon can be used to optimize the value of Cargill's state-of-the-art feed formulations, additives, and support services."
As Cargill collects more and more data, Galleon will become even more effective. "What's more, the same technology can potentially be applied to other species—once we are able to identify the key biomarkers," he said. "Galleon has opened doors we have yet to explore."