Workplace Safety
A key measure of our success is sending every employee and contractor home safe every day.
This requires an unyielding commitment to safety and each other, from all 150,000 people at Cargill. To ensure a safe and healthy workplace, we start with a foundation of proven programs that are consistent around the world, along with a set of five-year goals that are focused on continuous improvement in our safety performance.
Our commitments
For the past several decades, we have set a series of five-year goals for safety, and we continue to make steady improvement to reduce injuries. In fact, since our fiscal year 2010, we have reduced total injuries by nearly 50 percent. However, when it comes to our most important commitment of zero workplace fatalities, we fell short in fiscal year 2016. During the fiscal year ended May 31, 2016, nine colleagues lost their lives in work-related incidents. .
Our goals for 2020 are
ZERO fatalities
Recordable injury frequency rate = 1.0
Injury-free facilities = 75% (facilities with no recordable injuries)
Early in this five-year cycle, our progress looks like this as of May 31, 2016:
With nine fatalities, we did not achieve our goal of zero;
Nearly 70 percent of our locations worked without injury (approximately 1,000 locations) compared to our goal of 75 percent by 2020; and
Our Reportable Injury Frequency Rate (RIFR) dropped to a company best of 1.34.

RIFR: As defined by the U.S. Occupational Safety and Health Administration (OSHA), the Recordable Injury Frequency Rate measures total recordable injuries per 200,000 hours worked. As Cargill works to eliminate all occupational injuries and illnesses from our operations, our 2015 workplace safety goals are zero fatalities and a RIFR of 2.0.Injury-free facilities: This is a unique metric within Cargill. Most organizations measure facilities without lost work days; at Cargill, our metric is based on no injuries, period.
Injury-free facilities: This is a unique metric within Cargill. Most organizations measure facilities without lost work days; at Cargill, our metric is based on no injuries, period.
Our actions
Cargill continues to enhance our foundational safety programming through Focus on LIFE (Life-altering Injury and Fatality Elimination). The program, which was introduced in 2013, is aimed at identifying and addressing life-threatening dangers hidden in our tasks and workplace to ensure every job can be done safely and every person goes home safe every day.

Here are some components of our LIFE program:
LIFEsavers
LIFEsavers are the 12 activities that present the highest-risk to employees and contractors across all Cargill businesses. Each LIFEsaver identifies key risks and minimum requirements for performing these activities safely. A statistic we are not proud of – more than 80 percent of our fatalities historically involve these 12 high-risk activities, whether that's working at heights or operating a motor vehicle. By eliminating risks associated with these activities, we also eliminate the chances of serious injuries or fatalities.
Human and Organizational Performance (HOP)
We have been introducing a concept known as "human and organizational performance," which helps companies better understand why injuries happen and how "systems thinking" helps build a strong and effective safety culture. Training on this concept is underway across the company and principles are being integrated into our day-to-day work, with the specific purpose of preventing human error and performing every job safely.
See. Say. Stop.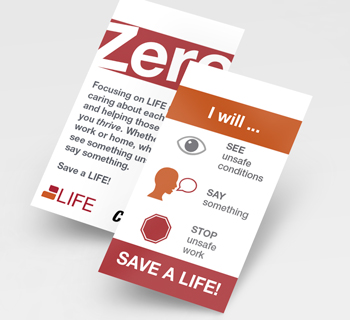 We began a campaign in July 2016 as a reminder of the importance of watching out for each other. See, Say, Stop – Save a LIFE emphasizes the necessity of "seeing" unsafe conditions, "saying" something when you do see something unsafe, and then "stopping" unsafe work – at work and at home.
Safe driving
Global statistics are staggering. According to the World Health Organization, 1.2 million people die each year in roadway collisions. In Cargill, vehicle incidents are our number one cause of fatalities. That's why vehicle safety is one of our 12 LIFEsavers. It's also why we are updating our Safe Driver policy to a total ban on mobile/cell phone use while driving on company time to minimize the risk of distracted driving. While we can't eliminate all driving risks, this is a significant step toward keeping our people safer on the roads.
Industry standards and workplace safety
Strict industry standards also play a critical role in our foundational safety programs and practices. For example, the Occupational Safety & Health Administration (OSHA) within the United States sponsors what it calls Voluntary Protection Programs (VPPs). VPPs promote worksite-based safety and health. VPP participants are a select group of facilities that have designed and implemented outstanding health and safety programs. Within the program there are differing levels of recognition: Star participants meet all VPP requirements; Merit participants demonstrate the potential and willingness to achieve Star program status, and are implementing planned steps to fully meet all Star requirements.
Cargill VPP locations
Corn Milling NA, Blair, NE
Corn Milling NA, Eddyville, IA
Corn Milling NA, Houston, TX
Corn Milling NA, Wahpeton, ND
CVAM, California (Feed Mill), MO
CVAM, Gentry (Hatchery), AR
CVAM, Harrisonburg (Feed Mill), VA
CVAM, Harrisonburg (Hatchery), VA
CVAM, Springdale (Processing), AR
CVAM, Springdale (Feed Mill), AR
CVAM, Temple, TX
CVAM, Waco, TX
Regional Beef, Wyalusing