Stephanie Lundquist
Chief Human Resources Officer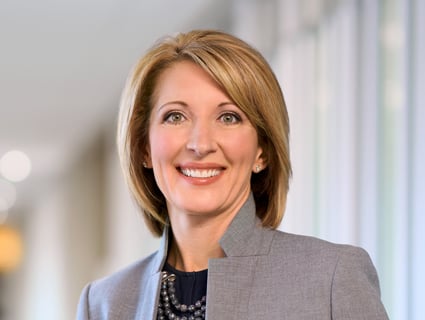 Stephanie Lundquist was named chief human resources officer (CHRO) of Cargill in April 2022. As a member of the Executive Team, Steph oversees all aspects of human resource strategy and execution for our 155,000 employees in 70 countries.
As a seasoned HR and business leader, she brings expertise in aligning strategy, capabilities, people and culture to deliver results and accelerate growth. She focuses on delivering leading people and culture practices that create a preferred, diverse and inclusive workplace. Steph also fosters a 'one team approach' and learning culture that fuels innovation, curiosity and agility. Purpose and people driven, she brings her astute and savvy talent management expertise to every role, building high-performing diverse teams.
Prior to Cargill, Steph spent more than 15 years with Target [NYSE: TGT], a Fortune 30 company and one of the world's most recognizable brands. She held a variety of roles in HR, as well as the company's transformation office, before becoming a member of their Executive Team as CHRO, supporting a global team of more than 350,000 employees. Most recently, she served as the first-ever President of their food and beverage business.
As Independent Board Director for Sysco Foods from 2019-2022, Steph served on the Compensation and Leadership Development, Technology and Corporate Social Responsibility committees. Steph is also a member of Concordia College's Board of Regents. She is passionate about contributing broadly within her industry and community, serving on various industry and community organizations.
Steph attended the Board Governance Executive Education Course at Harvard Business School and received her B.A. in Business and Communication from Concordia College in Moorhead, Minnesota.